Travel Planner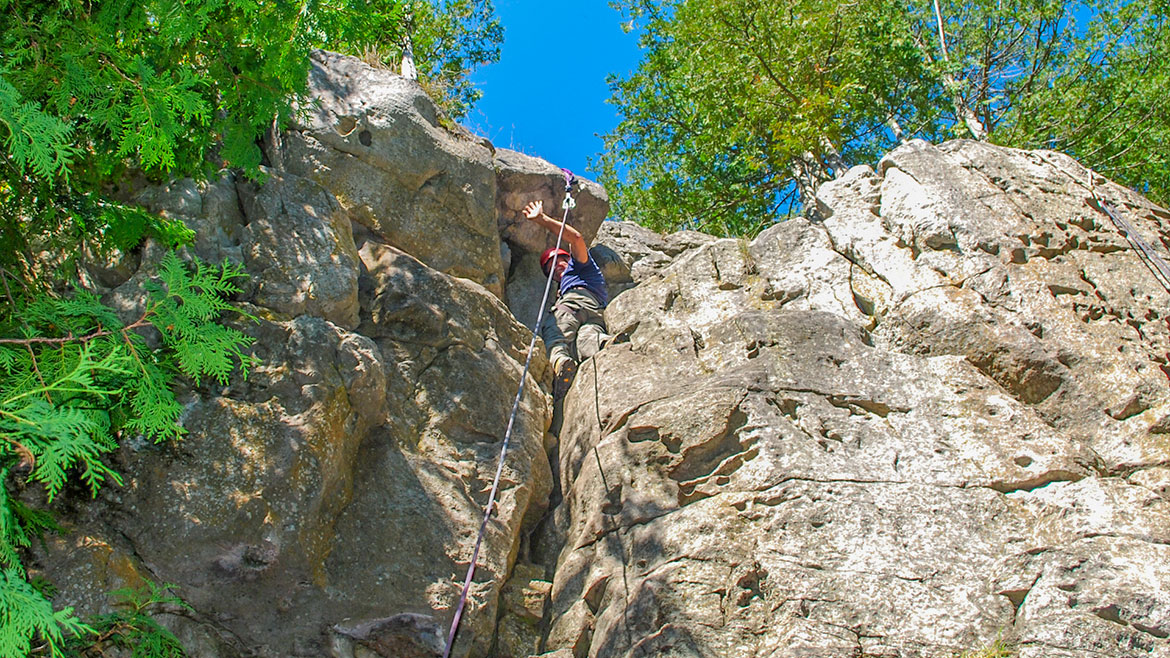 "Tom's Great Adventure"
Episode #1610 Travel Planner
Tom goes rock climbing for the first time, kayaking in the northern Michigan wilderness and hikes into caves, to a waterfall, in the treetops and to a magnificent overlook. Plus a trip to the top of the Mackinac Bridge.
Rock Climbing | Metcalfe Rock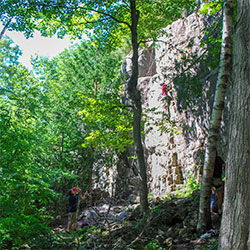 Location: The Blue Mountains, Ontario (44.418, -80.441)
Located in the Blue Mountains, Metcalfe Rock is the unofficial centre of all the action. Two separate outfitters operate their rock climbing businesses on the escarpment's unique limestone surface, Free Spirit Tours and Adventure Upwards; two highly certified outfitters provide instructional lessons, all equipment and plenty of encouragement. The climb heights at Metcalfe Rock range from 20 ft to 80 ft and the rock face runs 500ft in length.
Caving | Scenic Caves
SCENIC CAVES NATURE ADVENTURES
Location: 260 Scenic Caves Road - Blue Mountains, ON
Phone: (705) 446-0256
Immerse yourself in our historical side and explore the series of natural caves and caverns. Self-guided trails weave throughout seventeen unique geological features, naturally carved millions of years ago by glacial ice. Descend into the aptly named "Refrigerator Cave", explore a labyrinth of caves and caverns 70 ft below the surface or shimmy through "Fat Man's Misery" at just 36cm wide. The rewards are plentiful with multiple panoramic vistas of Georgian Bay along limestone cliff edges.
Kayaking | Big Island Lake Wilderness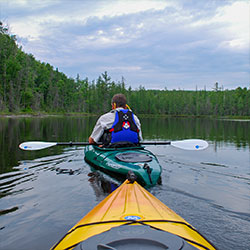 Location: Big Island Lake Wilderness, part of the Munising Ranger District of the Hiawatha National Forest, lies about one-half mile northwest of the community of Steuben - 22 miles northwest of the city of Manistique and about 18 miles southeast of the city of Munising. Big Island Lake Wilderness is bounded on the south by County Road 437 and on the west by County Road 445. The remaining border is delineated by Forest Road 2303 on the northeast and an abandoned railroad grade (Haywire Grade - Forest Road 8109) on the south side.
Hours: Open year round.
Big Island Lake Wilderness is located centrally in Michigan's Upper Peninsula. White birch, maple and aspen cover the wooded hills that surround the lakes. This wilderness contains 23 small lakes ranging in size from 5 to 149 acres. Some of the lakes are connected by maintained portages while some of the lakes are remote, making access more challenging.
Big Island Lake Wilderness offers remote, non-motorized recreation opportunities for those who want to be free of amenities -- you will find no directional signs, no restrooms, and no trashcans. There is no easy access and no wheeled or motorized equipment is allowed -- so if you want to canoe or kayak, you can't use portage wheels; you must carry your watercraft across portage trails to reach the water.
Mackinac Bridge
Location: on Interstate 75 at the Straits of Mackinac
Toll: $2 per axle for passenger vehicles ($4 per car). $5 per axle for motor homes, and commercial vehicles.
Phone: (586) 533-0141
Hours: 6am-10pm
The Mackinac Bridge is a suspension bridge spanning the Straits of Mackinac to connect the Upper and Lower peninsulas of Michigan. Opened in 1957, the 8,614-foot "Mighty Mac" is the world's fifth-longest in total suspension and the longest suspension bridge between anchorages in the Western hemisphere. The Mackinac Bridge connects the city of St. Ignace on the north end with the village of Mackinaw City on the south.
Montreal Falls
Location: tip of the Keweenaw Peninsula, Michigan

ECO-INTERPRETIVE HIKING TOURS
Location: Copper Harbor, Michigan
Hours: (906) 289-4303
Montreal River Mouth Eco-Interpretive Hiking Tour - A Waterfall to "Wow" You (4hr) The Montreal River pushed its way between the lava flows which forms the Keweenaw until it found a crack and a long cascade down to Lake Superior. This three mile hike takes you to the upper falls where the entire river drops 50 foot through a notch in the ridge. Then follow the rivers spectacular run to the Lake. The most remarkable water falls you will ever see!
Treetop Canopy Walk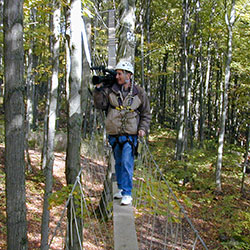 SCENIC CAVES NATURE ADVENTURES
Location: 260 Scenic Caves Road - Blue Mountains, ON
Phone: (705) 446-0256
Your 3-hour adventure begins with gear outfitting (all provided for you) and introductions to your guides. You will then take a short hike to our 410 foot suspension bridge overlooking a 10 000 square kilometer view of Collingwood and Georgian Bay. A tractor and wagon ride through the forest will give you a glimpse of the unique ecology of the Niagara Escarpment before you journey up into the trees. Your treetop walk will take you 600 meters across 10 inch wide bridges suspended as close to the treetops as possible.
Treetop Zipline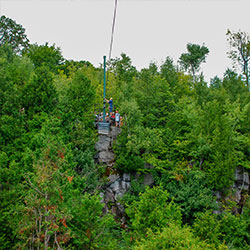 SCENIC CAVES NATURE ADVENTURES
Location: 260 Scenic Caves Road - Blue Mountains, ON
Phone: (705) 446-0256
High among 200 year-old oak trees, up to 60 feet above the ground, get ready for an experience like no other. Explore the beauty and wildlife of the picturesque forest valley at the top of Blue Mountain, as you become one with the birds. Now relax, take in the amazing view from the Scenic Caves Lookout Point, enjoy the caverns and crevasses full of moss and rare ferns and then prepare yourself for a truely amazing 1000 foot long Zip Line from the top of the Niagara Escarpment!!!
Skinner's Bluff
Location: Accessible off Grey County Road 26 and Township Roads 23-24 and 20-21, Wiarton, ON, Canada
Phone: (519) 376-3076
For a spectacular view of ruralscapes and Georgian Bay this is the spot to bring your camera. Located northeast of Wiarton, atop the Niagara Escarpment, accessible off Grey County Road 26 and township roads 23-24 and 20-21. Parking is available along the roadside.
On your return, don't forget to walk the trail to Bruce's Caves. One of the few ancient sea caverns that remains completely natural on a trail, there are no stairs or viewing platforms. You can rock scramble your way to every corner of this cavern.