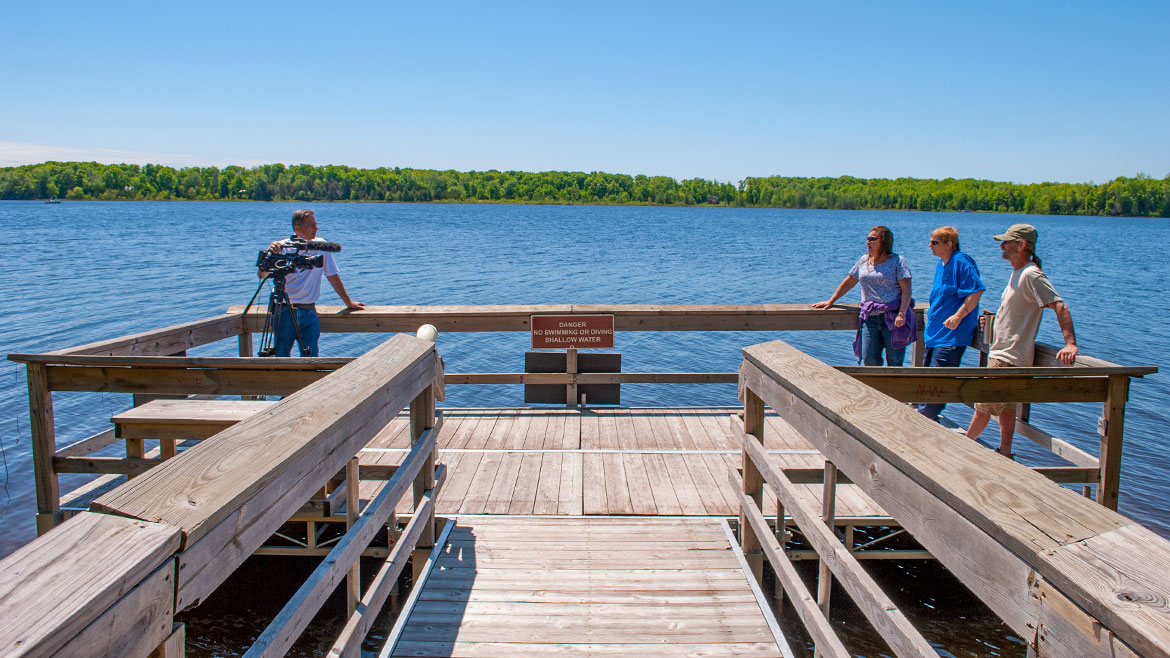 1/8/2020
I have been in the Houghton Lake area for about 65 years. I like to get away to the "City" for cultural events and shopping, but I am ALWAYS happy to get back home! It is so comforting to see the same merchants year after year. And they, of course, also recognize the people who come back year after year. I didn't have a job that brought me into contact with a lot of people. So, I don't know a lot of people here. However, I happened to know almost all of the folks who showed you around! The Roscommon County episode was fantastic. I'd like to see one on summer activities!
Roberta Buss
Prudenville, MI
1/10/20
Barbara Wiese There is so much to do in the Curtis area. Swimming, fishing, boating, lots of sightseeing sites, and of course all the winter fun. A perfect place for a relaxing vacation.
2/2/2020
Very interesting. I was not aware of all the trail choices on the East side. Keep up the great work. We try to watch every week.
Charles Matko
Grand Rapids, MI
2/2/2020
I love these shows. We love to visit tha places you show.
2/2/2020
We enjoyed the show. We can't wait to explore the trails!
2/3/2020
Really great information - so want to get there to experience the tridge and the canopy walk!
Richard Blanchard
Alanson, MI
2/3/2020
I had no idea these trails existed in and around Bay City & Saginaw. These are must see & must hike trails in my to-do list. So excited to share this with my family - thank you for enlightening me.
Rebecca Dujanowicz
Northport, MI
2/10/2020
Can you tell me what campground was in the ad with Tim Allen speaking just after the lighthouse? You can see large beach and campers. Thank you. Your show always gives us great travel ideas.
Karen Wolfgang
Midland, MI
I believe that shot is of the East Tawas City Park just to the west of the State Dock. Here's some info: East Tawas City Park 407 West Bay Street - East Tawas (989) 362-5562 174 Campsites, 1600 Ft. of Sandy Beach. Open year round, full hookups (seasonal). Cable TV and off season storage. First Come, First Served! Adjacent to downtown East Tawas Business District and harbor of refuge. East Tawas City Park Thanks for watching!
2/11/2020
I only caught the last part of this show but I was amazed at the trail that I saw that I never knew existed! I wish I had seen the whole episode! I would love to look at a guide for trails in Michigan. I am so very glad to have found this show! I will definitely watch it again! Thank you for showing Michiganders what we are missing so we can take advantage of all that we have here in our own state!
2/11/2020
I thought it was great as usual. Loved the trail descriptions, and the lakes.
2/11/2020
I liked the whole tour. For me it would be close since I live in Gaylord, MI. It gives me an idea for a road trip in my 1968 Corvette with the top down on a nice summer day.
2/11/2020
Super as always! This (Huron Shores Circle Tour) is a great getaway!!
Deborah Kapusta
Clinton Township, MI
2/19/2020
Watched the video about the UP Michigan State Parks and really enjoyed it. We are planning a camping trip this summer with our RV.
Cindy Travioli
Cleburne, TX
2/20/2020
It was a well done and comprehensive overview of the state parks of UP.
2/20/2020
I enjoyed learning about the trails and the upcoming events in the coming year.
Susan Franklin
Detroit, MI
2/21/20
John Rogers Congratulations!! Always enjoy your shows. ALWAYS!!
2/21/20
Debra Huff Congratulations. Love your show. We check out your shows to help us plan our vacations!
2/24/2020
Captivated by the beauty you've captured in this documentary! The lapping of waters on a shore, the roar of the falls, the views of beach and Lake Superior, the walk through the trees, bring a smile to my face thinking of these things I've experienced in my 45 years here in Michigan.
Michael Woroniak
Manistee, MI
3/2/2020
I enjoyed your show, the Ludington area is "Hallowed Ground" for us. My best friend & his wife lived in southern Ohio & they enjoyed Ludington for years. He passed in 2013 & his widow had a bench commissioned in the marina park, the bench is next to the abstract sculpture & faces out to the west, a perfect spot to watch the SS Badger come and go!
Robert Knispel
Davison, MI
3/9/2020
Very good show! Curtis is a treasure!
Laura Moore
Traverse City, MI
3/11/2020
Thought this episode was great. Looking forward to planning our trip.
3/11/2020
Inspired us to try going there (Curtis, Michigan). Have been to some of the surrounding areas.
3/22/2020
Pure Michigan fun! Looking forward to exploring with others. Thank you for taking my mind out of house & into the beauty of Michigan.
Joan Moser Kuiper
Spring Lake, MI
3/24/2020
As one who has kayaked on the Chippewa, River, the Tittabawassee River, and Sanford Lake and who has taken boat trips on the Saginaw River and who has enjoyed the tall ships festival, I enjoyed the show. Last summer, we took a cruise to Charity Island. I was disappointed that it was not included.
3/29/2020
Loved it! Never been to Lake St. Clair, but want to bring the boat over now!!!
Laurie Quillan
White Cloud, MI
3/29/2020
Watching it now. Definitely a place to check out this summer. Thank you, love your programs.
Dianne Delagandara
Alto, MI
3/29/2020
Fascinating to me since I am from the west side of the state and have never been to Lake St. Clair.
4/4/2020
First time watching the show. Very impressed with the footage of the U.P.
Charlie Fisher
West Branch, MI
4/4/2020
Truly enjoyed learning about the Manistique area, the July event and especially the hidden wilderness lakes. I will use the video and brochures to plan a trip with my son as soon as life returns to normal. Really enjoy your program. Thank you and keep up the great work!
Paul Durrenberg
Charlevoix, MI
4/25/2020
Loved it, hope to take a trip to the U.P. some time this summer if the virus will let us.
Donald Konieczka
Saginaw, MI
4/27/2020
Really enjoyed this weeks program on the top of the lake scenic byway. I may just change my summer vacation plans
Kevin Forester
Corunna, MI
5/9/2020
Well narrated. Captured many businesses in the area I was not aware of. Camera angles well done. As a result, I will visit the area and some of the featured businesses. Thank you!
5/18/2020
I thoroughly enjoyed this trip back in time and love the UP as well. I wanted to retire there but it was too far from kids and as a senior, hospitals were important. I chose Charlevoix as a good option. I go into the UP often and enjoy nature and my memories of previous trips. I also enjoy your page. It is the only FB page that I haven't seen political crap and horrible name calling.
5/20/2020
Another great show(s), it was a pleasure to see mini snippets to other areas of interest in Roscommon area. We go camping every year in September at Higgins Lake State Park and it was nice to see other attractions and activities to do. Great show we love it. Thanks again!!
Andrew Kapusta, Jr.
Clinton Township, MI
5/24/2020
I loved being able to see new places to explore and not have to go. With a family of 5, it becomes difficult going too far and not knowing what we'll see. We love the outdoors and explore often!
Jessica Shelton
Rockford, MI
5/26/2020
Very pretty area (Michigan's Sunrise Coast) that I would love to explore. I loved the camping along the water.
5/28/2020
We love these segments and the beautiful trails and features that you're showing.
6/16/2020
It was awesome. I've been across (U.S. Highway) 2 at least 40 times and did not know of many of the sites. I will now take my time to enjoy.
Dena Donaldson
Bay City, MI
6/16/2020
Awesome.... can't wait for our next U.P. adventure!
Bonnie Robison
Lincoln, MI
6/20/2020
All right. The U.P. is now on my list of travel destinations. Interesting show. I've got to visit that freighter museum.
6/21/2020
Summer days and nights, it's what camping is about. Long walks and reading by the camp site is just what you need to unwind. The trip along U.S. 2 is one of the best. A journey west to visit family is what I remember most. Love it!!
Debbie Kapusta
Clinton Township, MI
7/11/2020
Excellent show. I loved the biking and hiking trails info. We moved here last fall from Pennsylvania to be close to grandkids and want to learn about the wonderful parks, biking and hiking trails you have in this area. Many thanks.
Bill and Susan Halke
Saginaw, MI
7/11/2020
I loved it. I never knew about these trails. So glad I saw this episode.
7/12/2020
Very informative. I like the fact the canopy trail was built while only removing 6 trees. Would like to hike it.
David Olee
Grand Rapids, MI
7/16/2020
I loved the Great Lakes Bay Trails episode. I would like additional information about what to do and what to see highlighted in the episode. Please send me more. My family and I have taken many trips based upon your shows. Thanks for all the great ideas, Tom and Denny.
7/16/2020
It was great. I didn't know all those trails were there (Great Lakes Bay Region). Would love to have a pamphlet on those trails. Keep up the good information.
Linda Echelbarger
Adrian, MI
7/25/2020 - Episode 1606 "Scenic Byway 2"
Awesome job Tom. Would love to hike with you someday. I live near Marquette.
7/27/2020 - Episode 1106 "The Keweenaw Peninsula"
Fun and sun, just what is needed now. Relaxing and enjoying the great outdoors is just another great getaway. Thanks!!
Andy Kapusta, Jr.
Clinton Township, MI
7/29/2020 - Episode 1106 "The Keweenaw Peninsula"
Really enjoyed it. Very informative. Brought back so many good memories that I need to visit the area again.
Thomas Sanctorum
Waterford, MI