Travel Planner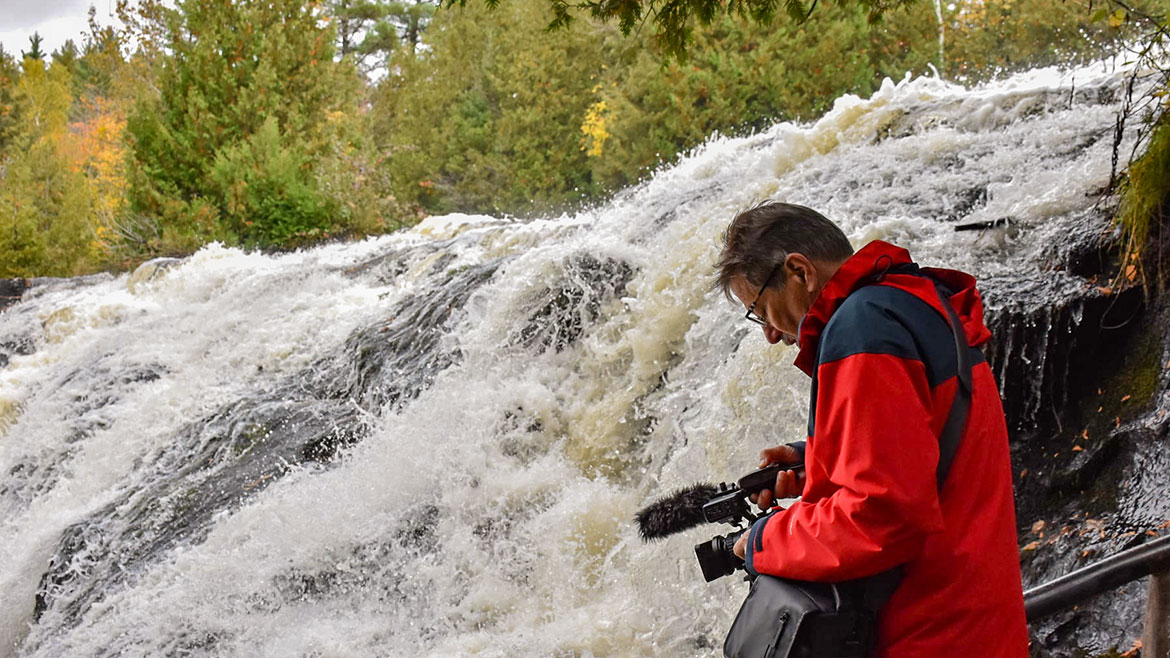 "Wilderness Waterfalls"
Episode #1802 / 1803 / 1813 Travel planner
The U.P. is home to all but one of Michigan's waterfalls. There are more than 200 falls scattered across the U.P., ranging in size from under 5 feet to 48+ feet vertical drops. Almost all require hiking to reach, and all are worth the hike. Some of the hikes are a lot harder than others but as you will see today the hikes are half the fun.
Part two of our wilderness waterfall hunt will take us on an incredible hike into the McCormick Wilderness in search of the Yellow Dog falls plus an adventure on the North Country Trail to even more waterfalls in Michigan's Upper Peninsula.
Our adventure continues in search of Michigan Waterfalls. So many waterfalls and so little time to see them all. This show is part 3 in our Wilderness Waterfall Adventure.
Boney Falls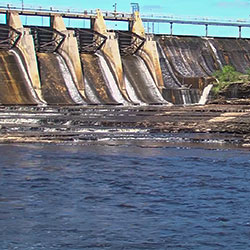 Location: Escanaba River | Gladstone MI
More of a dam and rapids than a regular waterfall. This scenic, forested impoundment on the Escanaba River offers beautiful scenery and good wildlife viewing. Available at this site: restrooms, trails, picnic area, camping, fishing, hiking trails, small boat ramp, drinking water. The river is shallow, so canoeing may be difficult during periods of low water.
Piers Gorge
Location: Menominee River Recreation Area | Norway MI
Piers Gorge is a scenic gorge carved out by the Menominee River. It is named for natural rocky "piers" that the river tumbles over, resulting in four sets of rapids, some of which could be classified as low falls. The biggest of the drops is about 8' high and is named Mishicot Falls.
Fumee Falls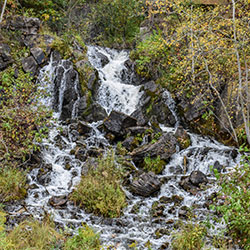 Location: Escanaba River | Gladstone MI
Fumee Falls is a road side waterfall along the north side of US 2 about 6 miles east of Iron Mountain. There is a small wayside here with restrooms and a waterpump. There are three drops to this falls. The main one is about 10 feet high. Above that are two smaller drops. In 2004 they added a stair and boardwalk to take you to the top of the main drop.
Bewabic State Park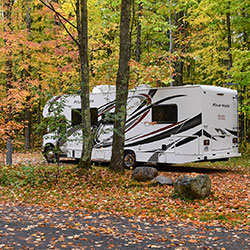 Location: Fortune Lake | Crystal Falls MI
A 129-site campground is situated in a shady, wooded site. Most of the sites have buffer strips between them to allow for privacy and most sites have electricity, a fire ring and a picnic table. Some campsites have 50 amp service. Picnic areas, a hiking trail, tennis courts, two playgrounds, an excellent beach and a boat launch to Fortune Lake are among the additional amenities at this park. Bewabic State Park is site #9 of the Iron County Heritage Trail System. The park is also rich with Civilian Conservation Corps History which is evident by several CCC structures still in use.
Chicagon Falls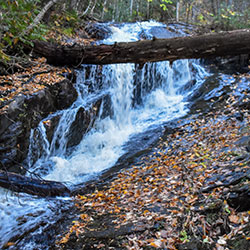 Location: Chicagon Creek | Iron County MI
Located just a few miles from Bewabic State Park, Chicagon Falls is a 20-foot slide falls on a small creek surrounded by forest. Reached by following a two-track then walking or biking the rest of the way in, these falls are incredibly secluded. Directions available at Bewabic State Park, respect any posted private property signs in the area.
Horserace Rapids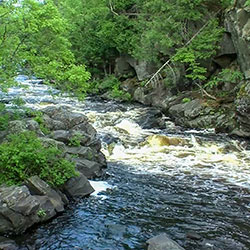 Location: Paint River | Crystal Falls MI
There are more than 100 waterfalls in the upper peninsula of Michigan. Some are easily accessible and others, like this one, take a bit more work. You will have to get off the main road and then it is quite a long and steep climb down. This rapids is popular with adventurous kayakers and white water enthusiasts and should be attempted only by the very skilled.
Nee-Gaw-Nee-Gaw-Bow Statue
Location: Peter Wolf Toth Statue | Wakefield MI
Nee-gaw-nee-gaw-bow (Leading Man). Indian statue by famous artist, Peter "Wolf" Toth to honor the Chippewa Indians. It is the 59th statue on the "Trail of Whispering Giants." Peter Toth has donated a different Indian carving to each of the 50 states and Canada as a successful completion of his dream from 1971 to 1988. Toth's persistent work put his Indian carvings in Ripley's-Believe It or Not. It is located on the lakeside pier next to the Wakefield Visitor's Center. The Indian statue was carved from one piece of pine donated by the Ottawa National Forest and was completed in 1988.
Agate Falls Scenic Site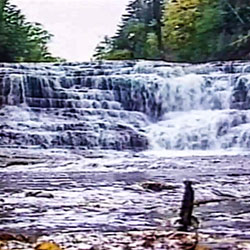 Location: Ontonagon River | Trout Creek MI
Considered by many to be one of upper Michigan's most picturesque waterfalls, Agate Falls is located on the middle branch of the Ontonagon River. The falls are created as the river finds its way over an extended shelf of terraced sandstone. The resulting waterfall is a broad band of interlacing cascades and small falls nearly 40 feet high. Access to view the falls is via an improved, accessible foot trail. Parking, water, toilets and picnic tables are available at the park, which is generally open from early May through late October.
Bond Falls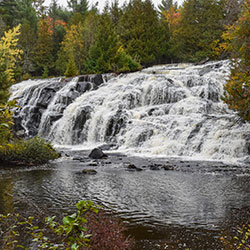 Location: Ontonagon River | Paulding MI
Bond Falls is a scenic and popular waterfall in southern Ontonagon County. The falls are created as the middle branch of the Ontonagon river tumbles over a thick belt of fractured rock, dividing it into numerous small cascades. Total drop of the falls is approximately 50 feet. Currently, roadside parking and picnic tables are available near the top of the falls. An accessible boardwalk with six viewing locations are also available at this location.
Lake of the Clouds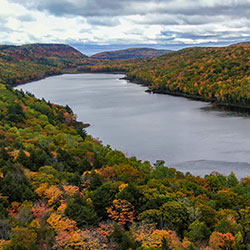 Location: Porcupine Mountains Wilderness State Park
Surrounded by the silhouettes of the ancient Porcupine Mountains, Lake of the Clouds is a blue gem amid the thick forests. In late spring and summer, the valley below is bathed in emerald green of old-growth forest, and in the fall, the trees burst into a fiery palette of oranges, yellows and reds. Lake of the Clouds is the most photographed feature in the Porcupine Mountains Wilderness State Park, and one of the most photographed in the entire Upper Peninsula.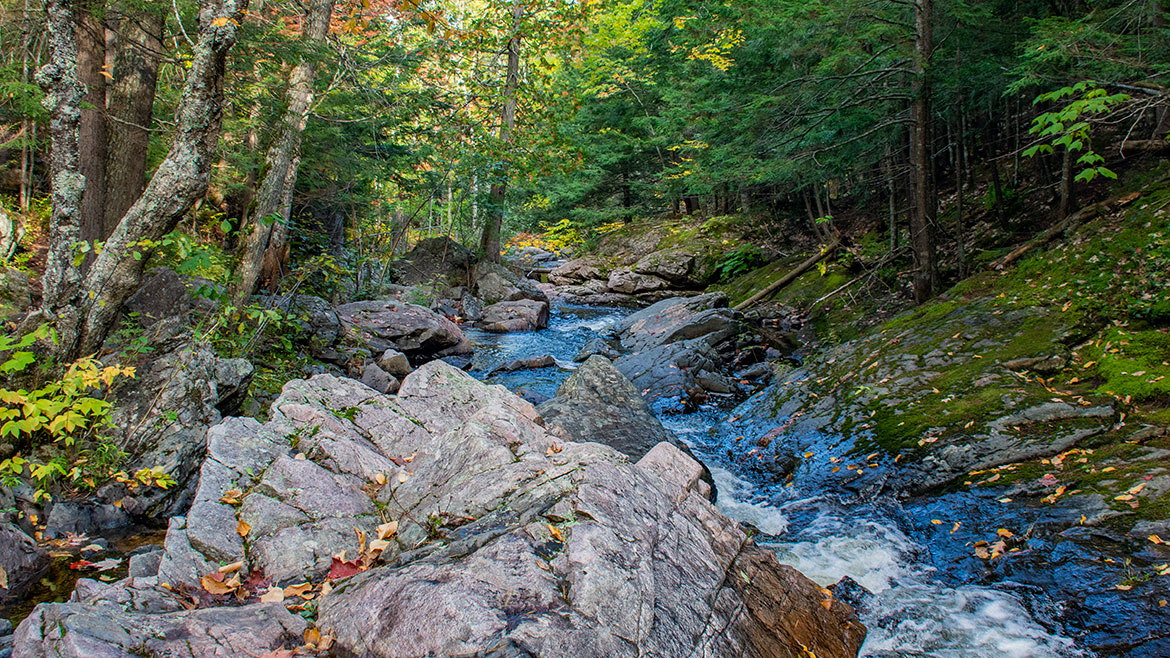 Big Garlic Falls
Location: Big Garlic River | Marquette MI
Big Garlic Falls is located about 20 miles north of Marquette. This is a wild waterfall, consisting of number of small drops and chutes. There are two distinct sections to the falls. The river is forced through a narrow rocky gorge. There really is no vantage point from which to see the whole thing, and you have to settle for different views as you carefully hike along the rocks.
Yellow Dog Falls
Location: Yellow Dog River | McCormick Wilderness MI
Located in the northeast part of the McCormick Wilderness this falls is located on the Yellow Dog River, one of only a handful Eastern rivers to be named "wild". The trailhead is located off of Ford Rd., and the trail is 2.38 miles to the falls.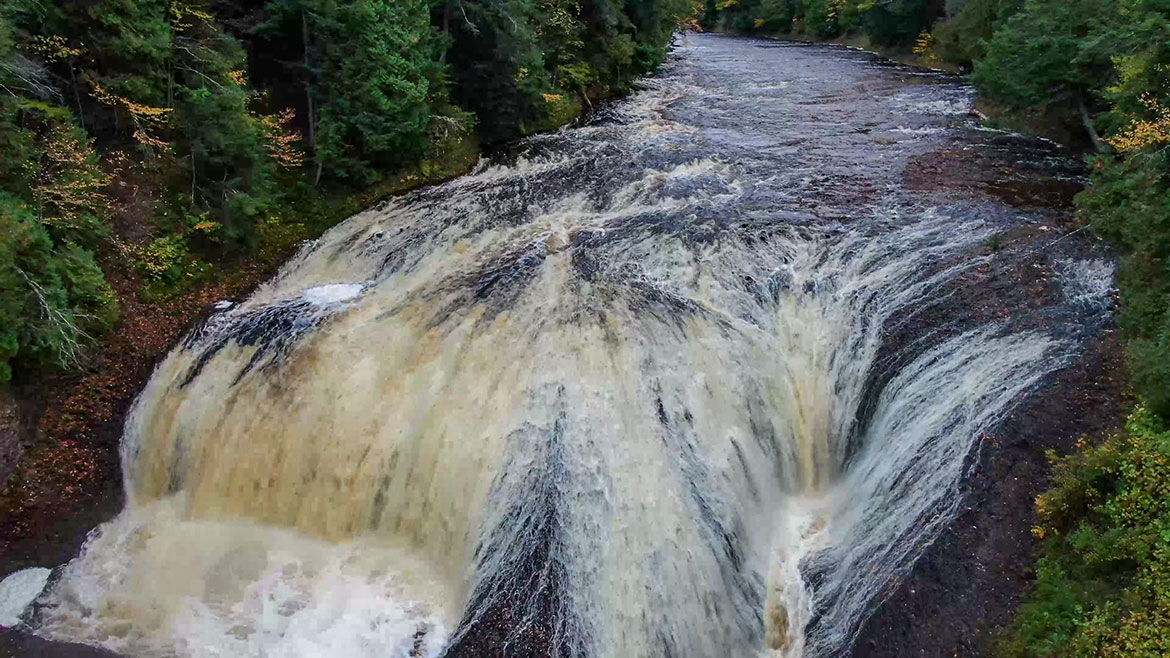 Black River National Scenic Byway
Location: County Road 513 | Gogebic County MI
The Black River Scenic Byway is located in the western corner of Michigan's Upper Peninsula. Dedicated in 1992 as a National Forest Scenic Byway, it starts just north of Bessemer Michigan and ends at the Black River Harbor in the Ottawa National Forest, following the Black River on its way towards Lake Superior. Along the way it passes five main waterfalls, as well as some minor ones. The five main waterfalls are all located on the last three miles of the river before it reaches Lake Superior. There is a parking area for each of the falls.
Great Conglomerate Falls
Location: Black River | Bessemer MI
The uppermost of the five Black River Falls, Great Conglomerate Falls is also the most impressive. The river splits over a huge mound of conglomerate rock to form two separate waterfalls that are so separated that they are difficult to capture in a single shot. Boardwalks and a well-placed viewing platform make this an easy and worthwhile stop.
Potawatomi Falls
Location: Black River | Bessemer MI
Further downstream about one half mile via the North Country Hiking Trail or a mile by road is the Potawatomi Falls and Gorge Falls. A short trail will take you directly to Potawatomi Falls where a section of conglomerate rock splits the falls in mid-drop. Look closely at the water cascading over the dark rock and notice how it sparkles in the sunlight as it makes it's way to the swirling pool at the bottom.
Gorge Falls
Location: Black River | Bessemer MI
Continuing south along the river's edge will soon bring you to Gorge Falls. At this narrow point in the Black River, it is apparent that Gorge Falls can take on two distinct personalities. In early spring Gorge falls can be a raging torrent of whitewater propelled by heavy snow-melt. But by summer things are back to normal when Gorge Falls is a beautiful narrow drop of water pouring over a lip of rock. Either way, a visit to Gorge falls is always pleasing with it's background of dense green foliage contrasting with the dark, bare rock of the narrow gorge.
Sandstone Falls
Location: Black River | Bessemer MI
One of our favorite waterfalls along the Black River probably isn't the highest or even the most spectacular. To reach Sandstone Falls, we took the short trail from the parking area that leads down a series of steps to the river. At the bottom we wondered exactly where the falls were. We didn't wonder long however as the water racing past us got louder the farther downstream we went. Although Sandstone Falls is impressive, it's the variety of jumbled and tilted slabs of rock that make it so unique. The river races along past the tree-lined shoreline before sweeping down a narrow rock chute situated between two huge blobs of conglomerate rock.
Rainbow Falls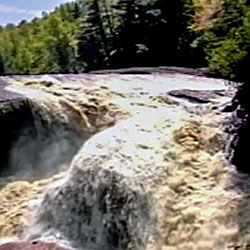 Location: Black River | Bessemer MI
If there's one waterfall that lives up to its name, it would have to be Rainbow Falls. The last waterfall on the Black River before its terminus into Lake Superior, Rainbow Falls squeezes the river together one more time. At this point the river pours over the dark rock, twisting and turning its way down into a foaming grotto before continuing on its way through a narrow canyon. As plumes of mist rise up from the bottom, it often creates one of the most magnificent rainbows you could imagine. Spectacular in every way, Rainbow Falls will capture the eye and imagination of any waterfall aficionado.
Newadaha Falls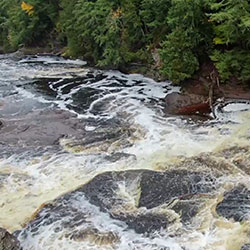 Location: Presque Isle River | Porcupine Mountains Wilderness State Park MI
To see Nawadaha Falls take county road 519 fifteen miles north from M-28 to Porcupine Mountains State Park. Continue into the park for three more miles and stop at the camping registration building on the right. A short walk on the trail behind the building leads you directly to the falls. Nawadaha Falls is a swift flow of water over a series of rock ledges. The powerful current and drop-offs combine to make a spectacular show of surging white-water. Although the temptation to venture close is great, caution is strongly advised. We enjoyed the falls from several of many vantage points found along the trail.
Manabezho Falls
Location: Presque Isle River | Porcupine Mountains Wilderness State Park MI
Manabezho Falls is the largest, and last named drop on the river. It is also the closest to the main parking lot. A short walk with many stairs will take you to a nice view of the falls. There is an overlook at the top of the falls, but you cannot see much of the falls there. The falls can be seen from the trails on both sides of the river.
McLain State Park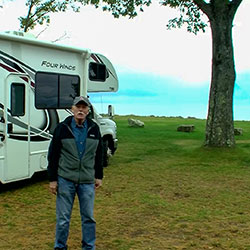 Location: 18350 Highway M-203 - Hancock MI, 49930
McLain State Park is situated in the heart of the Keweenaw Peninsula on beautiful Lake Superior and is centrally located between the cities of Calumet and Hancock. The park offers two miles of sand beach on Lake Superior. Visitors can also enjoy a variety of activities in the park: fishing, windsurfing, berry picking, beachcombing, rock hounding, sight-seeing and hunting. The sunsets at McLain State Park are spectacular and the view of the lighthouse is magnificent.
Great Sand Bay
Location: Lake Superior | between Eagle River and Eagle Harbor MI
Located on the beautiful shores of the Keweenaw is Great Sand Bay. This beautiful bay is located on the northwest shore of majestic Lake Superior between Eagle River and Eagle Harbor. Great Sand Bay is a great place to stop and look for agates or other beautiful rocks. It is also home to some beautiful wind swept sand dunes. This is a great spot for watching the sunsets or to sit and unwind while taking in the beauty of Lake Superior.
Hungarian Falls
Location: Dover Creek | Hubbell MI
Extending northwest from Tamarack and creating a huge sandstone gorge, Hungarian Falls is one of the most well-known waterfalls of the Keweenaw for locals and college students alike. There are around six or seven drops in all along the tiny Dover Creek, though most people consider the lowermost drop - a stunning plunge close to a sixty feet high - the primary waterfall. The width and scale of this waterfall is hard to grasp with limited views along the gorge wall and a trickling waterflow for most of the year. You will unquestionably need directions to find it.
Douglass Houghton Falls
Location: Hammell Creek | Houghton County MI
Douglass Houghton Falls is Michigan's tallest waterfall at 110 feet from the top where Hammell Creek cascades to its base. It is located in Michigan's Upper Peninsula between Laurium and Lake Linden just off Highway M-26. Prior to 2018, the waterfall was privately owned and access to the waterfall was restricted due to its dangerous geological makeup. The waterfall is situated in a deep gorge that is flanked by sharp loose rock.
Eagle River Falls
Location: Eagle River | Eagle River MI
While most of the waterfalls in the Keweenaw Peninsula are entirely the result of natures folly, some are a combination of man and nature. The Eagle River Falls in the town of Eagle River is one of these combinations. As you enter Eagle River from the south on M-26, you'll cross over the river of the same name on a large wooden bridge. Look to your right and you'll see the Eagle River Falls created in part by an old dam.
Silver River Falls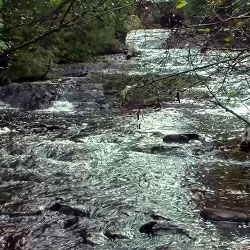 Location: Silver River | Eagle Harbor MI
Although not on the same grand scale as the Douglass-Houghton Falls, the Silver River falls is never-the-less pleasing in it's own right. Located on M-26 between Eagle Harbor and Copper Harbor, Silver River Falls can actually be seen from the road. You'll want to take in the best views however and to do that you must take the short walk downstream where the falls can be seen framed by the old stone bridge that crosses the river above. The lovely combination of the bridge and stone ledges could easily be on a postcard and on a sunny day it is easy to see how the Silver River got it's name.
Jacob's Falls
Location: Jacob's Creek | Eagle River MI
About four miles east of Eagle River on M-26 is Jacob's Falls. This pretty falls drops a total of about forty feet in two sections, and although Jacob's Falls can be seen from a car, the surrounding area really deserves a closer look.
Manganese Falls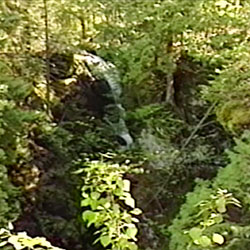 Location: Manganese Creek | Copper Harbor MI
You can find the elusive Manganese Falls just one-half mile south-east of Copper Harbor. A short walk along the top of a deep gorge only hints at what's to come as sheer walls of rock hide the falls from view until you're nearly to the observation deck. From there, you'll see the falls frothing and plunging from the top of the gorge to the rocky bottom some 45 feet below. We found that the beauty of Manganese Falls was further enhanced by the contrast of delicate green cedar branches and mossy rocks surrounding the falls. It is a waterfall well worth a visit.