Travel Planner
"Up North Discovery Part 1"
Episode #1807 Travel planner
From canoeing the mighty AuSable, kayaking Lake St. Helen, enjoying some local eats and riding ATVs with a little shopping thrown in, this show has something for everyone.
RZR RIPN' Rentals
Location: 938 N St Helen | Saint Helen, MI 48656
Phone: (989) 632-3229
SXS Rentals during SUMMER riding season. We rent out POLARIS RZRs only. May-October every year, 7 days a week. We feature 4, 2 and 6 seat machines. A family friendly and local business in St. Helen, Michigan surrounded by miles of off-road trails.
Campbell's Canoe Livery
Location: 1112 Lake Street | Roscommon, MI 48653
Phone: (989) 275-5810
Whether you're an experienced paddler or it's your first time on the river, we are the livery for you. With over 60 years experience on the South Branch of the Au Sable river in Northern Michigan. Campbell's Canoes is family owned and operated. Located on one of the most scenic rivers in Michigan, the South Branch of the Au Sable River. Come canoe, kayak or float leisurely down the pristine, peaceful waters.
The Lake House Food Trailer
Location: 7 W Higgins Lake Dr | Roscommon, MI 48653
Phone: (231) 944-0923
We pride ourselves in making great fresh food for our customers with high quality ingredients and combinations of flavors for an awsome food experience. We love to have fun and meet great people. They serve up fresh food from breakfast, lunch and dinner. You can find them at the corner of Sharps Corner, the old IGA gas station by south Higgins Lake.
Lake St. Helen Kayak Launch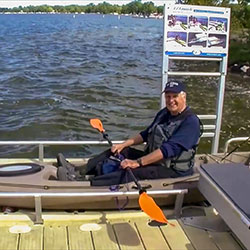 Location: Lake St Helen (Lat, Lon: 44.36476, -84.43189)
The Boat Access Site was leased from the DNR in 2010. This area is one of the areas best for active individuals that just can't get enough of the water. A boat launch site is available to get your boat out onto Lake Saint Helen, a huge parking area for people with boat trailers, a smaller beach area for those that just want a quick swim or just a taste of the water, a walking area for priceless views of the lake, and the new Lake Saint Helen Fishing Pier and Handicap Accessible Kayak launch. All of these wonderful perks make this a great location for a few fun hours or a long day out on our 2400 acre all sports lake.
The Minnow Bucket @ Exit 222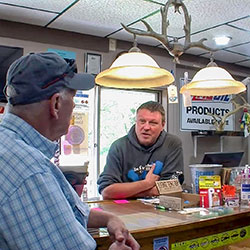 Location: 776 N St Helen Road | St Helen, MI 48656
Phone: (989) 632-3257
Live bait, Tackle, Sporting goods, Gifts and More!
Roscommon County ATV Trails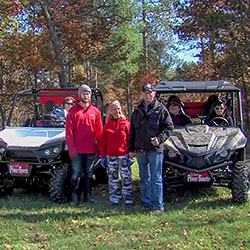 ST. HELEN POWER SPORT
Location: 1901 N Saint Helen Road | Saint Helen, MI 48656
Phone: (989) 389-4961
St. Helen Power Sports is your year-round, all-season, full-service provider of power recreation products in Northern Michigan. Our staff has been serving customers for more than 50 years with personalized and professional sales, service, and storage. Shop our in-store inventory of new and used boats, motorsports vehicles and more!
With hundreds of miles of maintained snowmobile and ATV-ORV trails throughout Roscommon County, and with the ability to ride on State Forest Roads, you are bound to fin some place to ride your motorized vehicles.
Cut River Grille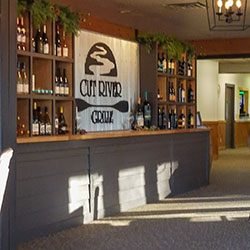 Location: 1136 E Higgins Lake Drive | Roscommon, MI 48653
Phone: (989) 821-1300
Cut River Grille brings a different style of dining to the lake! We plan on bringing you craft cocktails, craft beer, and a massive variety of different wines. We are going to pair those with multiple unique recipes all from scratch!