Travel Planner
"Rifle River Recreation Area - Our Discovery Continues"
Episode #1812 Travel planner
This slice of heaven has so much to offer we had to make another trip through to discover more nature, more lakes and more outdoor fun.
Rifle River Recreation Area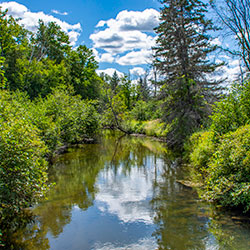 Location: 2550 E Rose City Road - Lupton, MI 48635
18 Miles NW of West Branch on Rose City Road (AuSable State Forest)
Approximate Size: 4449 Acres
Trails: 14 Miles
Phone: (989) 473-2258
The Rifle River Recreation Area covers over 4,000 acres in Ogemaw County. The park offers 159 campsites, has several hiking trails and several lakes in its boundaries. Also in the watershed are two state forest campgrounds. The Rifle River campground provides 40 campsites and is located on both sides of the Rifle River. Hardwood Lake State Forest Campground has 22 campsites available. Public canoe access to the Rifle River is fairly good. Access sites are located in the Rifle River Recreation Area, the state forest campground, near Skidway Lake, Moffatt Bridge, and at Omer. In addition, there is a partially developed access site near the confluence of Klacking Creek with the Rifle.
Pintail Pond Trail Hike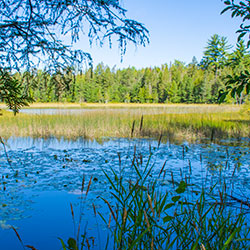 Location: Rifle River Rec Area (44.41486 LAT, -84.02548999999999 LONG)
Trail Length: 0.75 Miles
Phone: (989) 473-2258
The Pintail Pond Trail, located in the Rifle River Recreation Area, in Ogemaw County, Michigan is a short, 0.75 mile, interpretive nature hike. During the hike, visitors will see a variety of types of trees and plants including White Birch, Speckled Alder, Royal Fern, White Pines, Hemlock and more. As the trail encircles Pintail Pond, visitors will have the opportunity to learn about the wildlife and habitat, courtesy of 20 numbered posts. Hiking and cross country skiing are the only activities permitted along this trail.
Fishing Grebe Lake
Location: Rifle River Recreation Area (44° 24.37080, -84° 0.53580)
For the fishing enthusiasts, ten scenic lakes offer all types of fishing. Bluegills, bass, northern pike, yellow perch and trout can be found in these lakes. Brook, brown and rainbow trout are present throughout the many miles of streams in the recreation area. Fisheries research is being conducted on Jewett Lake. This lake is closed to fishing without a permit which is available at park headquarters. All lakes are closed to boats with motors.
Rustic Cabin Rentals
Location: Rifle River Recreation Area
Phone: 800-447-2757
There are five cabins available. Each cabin is secluded in its own location in the park. Four cabins are situated on a lake and one is located on the Rifle River. Each is a one-room cabin with three bunk beds, table and chairs, counter top area with cupboards and a propane wall furnace. Outside of each is a fire ring, standing charcoal grill, picnic table, hand pump for water and a vault toilet. Use of the shower facilities at Grousehaven Lake Modern Campground is included from Mid-April to December 1st. These cabins are open year round and are ADA accessible.
Paddle Boarding Devoe Lake
Location: Rifle River Recreation Area (44.39897114738152, -84.02951252006449)
Canoe launching sites are located in several places along the Rifle River in the park, including one with accessible kayak features.
Biking Trails
Location: Rifle River Recreation Trails
Trails: 14 Miles
The 14 miles of pathways meandering throughout the park offer hiking, biking, cross country skiing and snowshoeing. Numbered posts keyed to the map will help keep you oriented while on the pathways. Biking is prohibited on the Pintail Pond Trail.