Travel Planner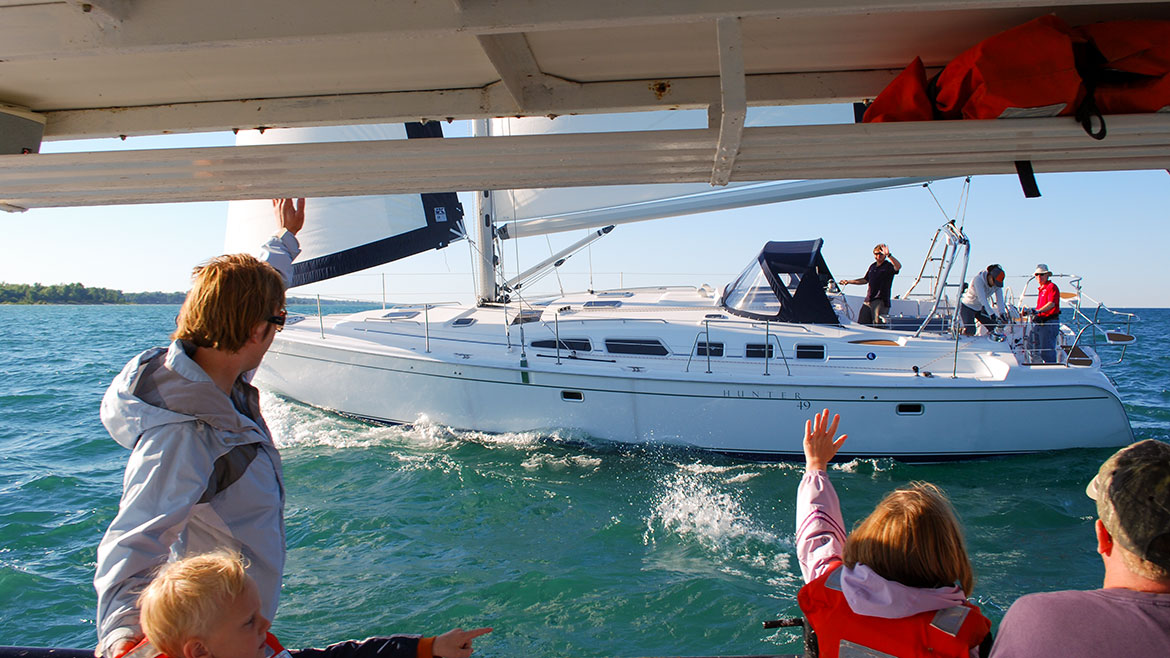 "Port in the Thumb"
Episode #1904 Travel Planner
We discover a hidden gem when we travel up the Lake Huron Coast in Michigan's Thumb. There is fun on and off the water in this quaint little harbor town.
Port Sanilac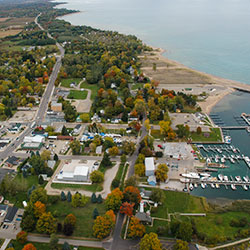 Location: Port Sanilac, Michigan
With a population of less than 700, this village was originally a lumberjack settlement on the shore of Lake Huron named "Bark Shanty." Nestled on Lake Huron's blue water shore, Port Sanilac is a sesquicentennial treasure just waiting to be discovered.
Port Sanilac Harbor of Refuge
Location: Latitude 43º 25′ 48″ N – Longitude 82º 32′ 04″ W
Port Sanilac Harbor of Refuge is a full service public dockage facility. Offering amenities including: water, electricity (30 and 50 amp), restrooms, showers, gasoline, diesel, pump out, ice, fish cleaning station, boat launch, hoist, long-term parking, public phone, courtesy vehicle, dog run, day-use dockage, playground/park, grills/picnic tables, laundry, car rental, marine repairs, marine supplies and weekend security.
Port Sanilac Marina
Location: 7365 Cedar St - Port Sanilac, MI
The Port Sanilac Marina is a full-service marina offering everything from boat sales and storage to full service and maintenance facilities. Port Sanilac Marina offers long term dockage services. Kayak and paddle boat rentals are also available for the day-trippers who stop at Port Sanilac.
Blue Water Winery
Location: 5475 Main St - Lexington, MI
After much renovation, the land, the house, the barn, Connie and Steve planted their first Chardonnay, Cabernet Franc and Pinot Noir vines in 2005. Next came a period of three years while the vines grew and could produce enough grapes to harvest and turn into wine. And after four years of coaxing premium wine grape vines to grow in a climate and terroir (wine snob for soil) meant for sugar beets and corn, Blue Water Winery has released their first three vintages with five more expected in mid-September.
The Van Camp House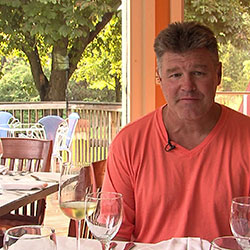 Location: 135 N Ridge Street - Port Sanilac, MI
Andy Fabian graduated from Schoolcraft College in 1998, studying Culinary Arts in their acclaimed program. Before opening The Van Camp House in June 2006, Andy served as a firefighter for 25 years with Livonia, MI and then Port Huron, MI. His dream of returning to his true passion encouraged him to begin his family run business that is open all year in the Village of Port Sanilac. The menu changes on a weekly basis and always features the freshest product available. It is Andy's goal to provide the ultimate dining experience for his customers through the visual presentation, the wonderful aromas, and delicious tastes that is part of every meal at The Van Camp House.
The Van Camp House Has Closed
Port Sanilac Lighthouse
Location: Lake Street - Port Sanilac, MI
Phone: (810) 622-8818
Built in 1886, this lighthouse originally burned kerosene, but was electrified in 1929. It is now a private residence, but the light remains an active aid for navigation.
Port Sanilac Historic Village & Museum
Location: 228 S Ridge Street - Port Sanilac, MI
Phone: (810) 622-9946
The Sanilac County Historic Village & Museum is a collection of nine historic buildings located on ten acres of the original Dr. Joseph Loop estate in the Lake Huron harbor village of Port Sanilac. The Sanilac County Historical Society invites you to step back in time as you wander through the beautiful gardens and the Victorian, Edwardian, and vintage buildings and exhibits that are featured on the property.
Huron Shores Golf Club
Location: 1441 n Lakeshore Road - Port Sanilac, MI
Phone: (810) 622-9961
Huron Shore Golf Club is located 3 miles north of Port Sanilac on M25 and approximately 80 miles north of Detroit Metro area. The scenic trip up the shore of Lake Huron offers golfers a great course with a northern attitude while limiting fuel cost. Huron Shores was originally started in 1925 as a nine hole course. It remained a 9 hole course for 72 years until the addition of its newest nine holes in 1997.
Sailboat Races
Local Port Huron Racing Federation (PHRF) racing is held from late May through late September. The Bark Shanty Sail Club hosts these races along with an annual Lake Huron Yachting Association regatta.
Antique Boat Show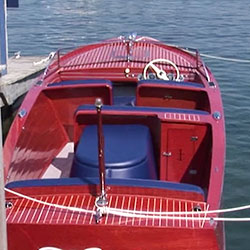 Location: Harbor Park - Port Sanilac, MI
2019 Dates: August 16-17
Port Sanilac Antique Boat Show features over 34 antique and classic boats on display in Port Sanilac Harbor. Boaters and spectators alike are amazed by the variety and quality of the various crafts. Boats, ranging from a lovely, little dinghy to a 57 foot yacht, invite people on board for tours, races across the lake, and to show off their craftsmanship.
Port Sanilac Farmers' Market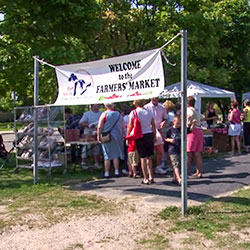 Location: Museum Grounds 2-6pm Fridays (May - October)
The Port Sanilac Farmers' Market is a strict "producers" market. This means that all goods must be made or grown within Sanilac, Huron, or Tuscola County. No vegetables or finished products can be trucked in. This guarantees that the items you buy at the market are truly "local". Fridays late May to mid-October and Saturdays July through early September.
Fun on the Water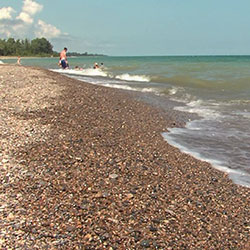 There are two public beaches in Port Sanilac. Both beaches offer a wonderful place for families to spend the afternoon in the sun and water. Port Sanilac is a popular fishing destination. Perch are widely available, as well as salmon and walleye. Music at the Harbor Every Saturday night June 25th to September 3rd from 7:00 - 9:00 p.m. Harbor Park.