Travel Planner
"Michigan's Canoe Wilderness"
Episode #1906 Travel Planner
In the Hiawatha National Forest in Michigan's Upper Peninsula lies an incredible canoe wilderness where you can camp, canoe, Kayak and portage from one of 23 lakes to another. No wheeled vehicles of any kind is allowed and no motors. Just you your Kayak and Mother Nature.
Big Island Lake Wilderness
Location: Big Island Lake Wilderness, part of the Munising Ranger District of the Hiawatha National Forest, lies about one-half mile northwest of the community of Steuben - 22 miles northwest of the city of Manistique and about 18 miles southeast of the city of Munising. Big Island Lake Wilderness is bounded on the south by County Road 437 and on the west by County Road 445. The remaining border is delineated by Forest Road 2303 on the northeast and an abandoned railroad grade (Haywire Grade - Forest Road 8109) on the south side.
Hours: Open year round.
Big Island Lake Wilderness is located centrally in Michigan's Upper Peninsula. White birch, maple and aspen cover the wooded hills that surround the lakes. This wilderness contains 23 small lakes ranging in size from 5 to 149 acres. Some of the lakes are connected by maintained portages while some of the lakes are remote, making access more challenging.
Big Island Lake Wilderness offers remote, non-motorized recreation opportunities for those who want to be free of amenities -- you will find no directional signs, no restrooms, and no trashcans. There is no easy access and no wheeled or motorized equipment is allowed -- so if you want to canoe or kayak, you can't use portage wheels; you must carry your watercraft across portage trails to reach the water.
Sand Point Marsh Trail
Location: 4 miles northeast of Munising, Michigan at the end of Sand Point Road | part of Pictured Rocks National Lakeshore
Hours: Open year round.
The Sand Point Marsh Trail, a half-mile wheelchair accessible interpretive trail that traverses a beautiful wetland area, is a great place for birding. Watch for frogs, turtles, and even beavers along the trail. No pets allowed. The Sand Point beach is a popular spot for sunbathing, or walking in the evening to the sun set over Munising Bay. Swimmers often find the shallow bay water off Sand Point warmer than other lakeshore beaches. Leashed pets permitted on beach and in the water.
Bruno's Run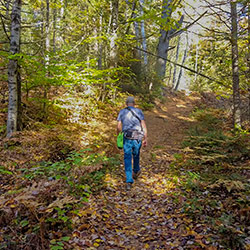 Location: The trail may be accessed from both Widewaters and Pete's Lake campgrounds as well as from Forest Highway 13 at Moccasin Lake and Forest Road 2173 at Grassy Lake. Limited parking is available at each site.
The 9 mile loop Bruno's Run Trail winds its way past a host of small lakes etched in this relatively young glacial plain, taking hikers, bicyclists, snowshoers and skiers over gently rolling country. Further along, the trail runs over foothills, along overlooks and through valleys. The many lakes and streams in the area as well as a variety of trees and other plants make it likely that those traveling the trail will spot wildlife or tracks. If you are alert, you are sure to have an enjoyable outing. Permits are not required for camping along the trail or for campfires. Be careful with fire.