Travel Planner
"GLBR Best of the Outdoors"
Episodes #1907 & #1908 Travel Planner
In the middle of Michigan is an outdoor paradise. It includes everything from Fat Tire biking to hiking the Pere Marquette trail and kayaking the Chippewa River just to name a few of the many outdoor opportunities. Its an area called the Great Lakes Bay, and we will bring you the best of the outdoors in this 2 part series.
This is the second in our 2-part series of the best of the outdoors in mid-Michigan's Great Lakes Bay Region. This week we will discover world class walleye fishing, nature and so much more. If you love the outdoors, you will love this area.
Great Lakes Bay Region
Phone: (800) 444-9979
SAGINAW TRAVEL TIP DESK
Location: 515 North Washington Avenue, 2nd Floor - Saginaw, MI

BAY CITY TRAVEL TIP DESK
Location: 301 Washington Avenue - Bay City, MI

MIDLAND TRAVEL TIP DESK
Location: 128 East Main Street - Midland, MI
With cool, calm waters and pristine trails connecting six charming cities — the Great Lakes Bay is pure springtime bliss. Reel in fresh catch from a top-notch walleye fishery, or catch views from the top of a forest on America's longest canopy walk. Stroll through glorious gardens, go ziplining at an aerial park, or ecotour the "Everglades of Michigan".
Midland Brewing Company
Location: 5011 N Saginaw Rd - Midland, MI
Phone: (989) 259-7210
Come on in for a case (or two), good laughs, great food and the best service in Midland. Sit back and unwind with a great beer in hand at our full-service bar and restaurant or outdoor beer garden. If you're looking for something a bit more intimate, our connected private event space, Red Keg, is just the place.
Bay City Area Riverwalk / Railtrail
Location: Bay City, Michigan
Bigelow Park: Evergreen Drive (North End of Middleground Island)
Veterans Memorial Park: 301 John F. Kennedy Drive - Bay City
Bay City Rowing Club: 350 West LaFayette Avenue - Bay City
The Bay County Riverwalk/Railtrail System shows community at its best, offering plenty of sights, sounds and activities along its route through Bay City and its parks, and through the residential and agricultural areas of Portsmouth, Hampton and Bangor townships. There are dozens of places to access and jump off the trail, and each one offers convenient parking and facilities, as well as clear signs to help you navigate the route.
Pere Marquette Rail Trail
Location: 220 West Ellsworth Street - Midland MI
A fun, healthy and educational way to explore the Midland area is to follow the Pere Marquette Rail-Trail of Mid-Michigan. The trail is a 30-mile-long, 14-foot wide ribbon of asphalt tracing a former railroad right of way. The handicap-accessible trail is for non-motorized activities, including walking, jogging, in-line skating, bicycling and cross-country skiing. Extending northwest from Midland to the city of Clare, the trail provides access to city and county parks, as well as historical and natural areas. Parking is available next to the trail in the downtown areas of Midland, Sanford, Coleman and Clare.
Saginaw Valley Rail Trail
Access Points:
6225 Stroebel Road - Saginaw MI
2998 Van Wormer Road - Saginaw MI
401 E Water Street - St Charles MI
The Saginaw Valley Rail Trail is one of Saginaw Counties gems, stretching 11 miles from St. Charles to Saginaw. It incorporates a number of natural features including: seven bridges over various rivers and creeks, The Shiawassee State Game Area and many wetland areas. The Rail Trail also offers an equestrian trail, trail shelters, restroom facilities at the Van Wormer parking lot, viewing platforms and benches.
Ringwood Forest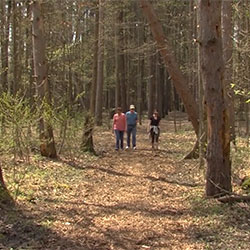 Location: Ring Road (1.5 miles west of M-52) - St Charles MI
Ringwood Forest is the most ruggedly beautiful of all of our parks. The 160 acres include some of Michigan's oldest forest plantations. The park has three miles of trails for nature lovers, hikers and cross country skiers. Beautiful towering pine forests, hilly terrain, fishing access and canoe launch on the Bad River. The parks also houses a pavilion available on a first come first serve basis along with a playground and pit toilets.
Fat Tire Biking
Ray's Bike Shop
Location: 301 McDonald St - Midland, MI
Phone: (989) 835-1691
Hours: Mon-Fri 10am-6pm | Sat 9am-5pm

Midland City Forest Park
Location: 2840 E Monroe Rd - Midland, MI
In winter months, Midland City Forest opens for a a variety of winter activities including tobogganing, sledding, skiing, ice skating and snowshoeing. During the winter, City Forest is best known for its elevated toboggan runs, each a tenth of a mile long. The forest provides groomed trails perfect for cross country skiing or snowshoeing. Also, there are 13 miles of mountain biking trails that are open year-round. A large rink in front of the Chalet is idea for ice skaters of all levels. Our groomed and lighted sledding hill is available for sledding until late evening. Use your own sled! When it's time to warm up, the City Forest Chalet is the best place for cocoa and a bird's eye view of the fun! You can bring your own sleds, skates and skis or rent ours when the Chalet is open!
Whiting Forest of Dow Gardens
Location: 2203 Eastman Avenue - Midland MI
Whiting Forest of Dow Gardens features 54 acres of woodlands, ponds, apple orchard, meadows and stream. Guests of all ages and abilities are immersed in the forest on the nation's longest canopy walk, 1,400 feet long, soaring up to 40 feet above the ground. The Alden B. Dow-designed Whiting home now welcomes guests as a Visitor Center. Other features include a playground, apple orchard, Whiting Forest Cafe, restoration of Snake Creek, and two pedestrian bridges.
Kayaking The Cass River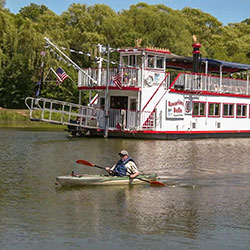 HERITAGE PARK
Location: 601 Weiss Street - Frankenmuth MI
Phone: (989) 652-3440

The Cass River Water Trail, notably, comprises a series of 13 canoe/kayak access sites from above Vassar down to Wickes Park in Saginaw, where the Cass joins the city's namesake river. Just before that junction the Cass, like the Saginaw, flows through the Shiawassee National Wildlife Refuge. Three universally accessible launch facilities along the Cass allow paddlers of all abilities to enter and exit the water safely and relatively easily. They're at Heritage Park in Frankenmuth, Hoffman Community Park in Bridgeport Township, and Davis Park near Bridgeport.
See Frankenmuth at a fresh, new angle — from sit-in or sit-on kayaks you'll rent from Frankenmuth Kayak Adventures. Be sure to point out every iconic Frankenmuth landmark and signature Bavarian rooftop you spot along your paddle!
Snowshoeing
Location: Chippewa Nature Center | 400 South Badour Road - Midland, MI
Phone: (989) 631-0830
Visitor Center Hours: Mon-Sat 8am-5pm | Sun & select Holidays 12-5pm
The Chippewa Nature Center in Midland has snowshoes to rent if you do not own a pair. It is the perfect place to gather with friends for a snowshoe walk on the trails guaranteed to rekindle your love of winter. Before you venture out, you will want to visit the center for an overview of what you can observe while out in nature. Go snowshoeing from dawn-to-dark on 19 miles of scenic trails inside our 1,200-acre Chippewa Nature Center.
Chippewa River / The Tridge - Midland
CHIPPEWA NATURE CENTER
Location: 400 South Badour Road - Midland, MI 48640
Phone: (989) 631-0830
Visitor Center Hours: Mon - Fri 8am-5pm | Sat 9am-5pm | Sun 1-5pm

IKE'S MOBILE KAYAK RENTALS
Location: 111 W Main Street, Midland, MI 48640
Phone: (989) 750-5251
What a wonderful day to spend kayaking the Chippewa River from the Chippewa Nature Center down to the Tridge in downtown Midland. You can go day tripping down the river in your own kayak or rent one from the area outfitter, Ike's Mobile Kayak Rentals. They will drop you at the selected launch site of your choice and pick you up when you're finished paddling. Midland and the surrounding area have easy launch sites, beautiful rivers and lakes full of nature to make your kayaking experience relaxing and enjoyable. Kayaking is a great form of exercise. Fun for families, groups or paddle by yourself.
Shiawassee National Wildlife Refuge
Location: 6975 Mower Road - Saginaw MI
Shiawassee National Wildlife Refuge is provides a habitat for migratory waterfowl. Known locally as the "Shiawassee Flats," the refuge lies in the Saginaw Bay watershed, historically one of the largest and most productive wetland ecosystems in Michigan. Four rivers converge on the refuge - the Tittabawassee, Flint, Cass, and Shiawassee. The refuge offers several trail systems that highlight the unique features of the area. Trails are open year round, seven days a week, during daylight hours except for days during hunting periods. The Woodland Trail, located off of Center and Stroebel Roads on the north side of the refuge, offers over 4.5 miles of trails. The Ferguson Bayou Trail, located at the west end of Curtis Road on the south side of the refuge, offers over 4.5 miles of trails. The Wildlife Drive (Auto Tour Route) meanders past forests, grasslands, marshes, open water pools, and the Shiawassee River.
Johnny Panther Quests
Location: Shiawassee National Wildlife Refuge
Johnny Panther Quest Adventure Trips - Phone: (810) 625-4057
Scenic boat tours through the Shiawassee National Wildlife Refuge specializing in ecotours, birding, romantic escapes, and Bed & Breakfast packages. Boat tours are by reservation through one of the richest wildlife habitats in Michigan. Explore Michigan's Everglades. They can accommodate 1-12 persons on their shallow draft, custom built boats through part of the Shiawassee National Wildlife Refuge and State Game Area when conditions permit. They offer soft adventures through one of the richest wildlife habitats in Michigan. From the migrations of waterfowl and raptors of early spring, lush foliage of summer, to the crimson colors and migrations of fall, you will have opportunities to spot Bald Eagles, beaver, deer, ducks, herons and shore birds. Trips are personally guided and narrated. Length of tours average 3-5 hours and are by reservation. Trips can be specifically tuned to individual groups.
Fishing On The Bay with Mark Martin
Location: Saginaw Bay
Walleye are abundant here in Saginaw Bay and they are so much fun to fish for. Not only do they put up a moderate fight consisting of heavy pulls and headshakes, when you return to shore with your limit, they are so delicious when served piping hot, fresh out of the pan. The freshwater Saginaw Bay spans 1,143 acres and is fed by many streams and rivers, It has been blessed with a great number of naturally reproduced walleyes and when they are added to the older, adult walleye population from past years, it means fishing is always exciting, Sometimes, though, anglers have to wait for them to get in the mood to bite. If they are undersized, they are simply returned to the water to feed and grow for another day.