Travel Planner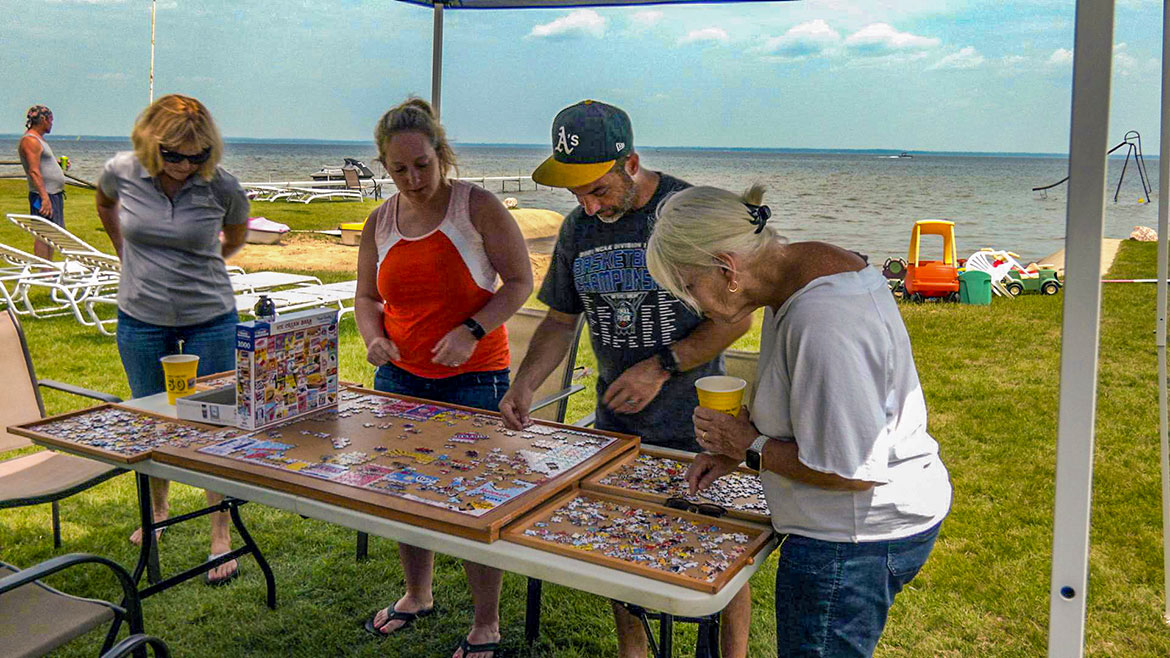 "Nostalgia Tour"
Episode #1910 Travel Planner
Houghton Lake is known for bringing families back year after year, generation after generation. So, we will meet 5 families that have been coming here for over 50 years and hear some of their wonderful memories and how they are making new ones.
Houghton Lake Area
Location: Roscommon County, Michigan
Fresh air and fresh water – purely Michigan – purely refreshing. Come for the experience that will last a lifetime. You will love all there is to see and do in the heart of Northern Michigan.
Roscommon County is your family vacation destination. Here you will find four seasons of fun, fishing, fireworks and festivals. Michigan's Other Great Lakes – Houghton Lake, Higgins Lake and Lake St. Helen will delight you with their natural beauty, wildlife viewing, and spectacular sunrises and sunsets. All three lakes are a sportsman's fishing and boating paradise. Located in the heart of Michigan you are just a short drive from a great get away.
When you arrive you will be greeted by affordable lodging from luxurious waterfront hotels and family-owned motels to quaint cottages and rustic cabins, or choose to camp at our private and state park campgrounds. Visit many of our casual and fine dining establishments. Head out to our amusement parks, state parks, historical sites, theaters, trails, and beaches. You will experience viewing glorious stars at night in our dark skies.
There are activities for the whole family. Whether you love to hike and bike, golf and shop, canoe and swim - just come stay and play!
Lyman's On The Lake
Location: 6560 W Houghton Lake Drive - Houghton Lake, MI 48629
Phone: (989) 422-3231
Store Hours: Mon-Sat 7am - 7pm | Sun 7am - 6pm
Cottage Rental Hours: Check-in: 3pm, Check-out: 10am
Two and three bedroom cabins includes linens and blankets. Also, 2-man, 4-man and 6-man shanties available. Propane heater and transportation with shanty rental. Pending ice conditions. We have everything you need for a day on the lake...bait, tackle, candy, snacks, ice, pop, beer, liquor, wine, Costa sunglasses and Stormy Kromer hats.
Sunset Resort
Location: 3723 E Houghton Lake Drive - Houghton Lake, MI
Phone: (989) 366-5512
Sunset Resort is a gem among the many resorts in Houghton Lake. The cozy cottages and lodge have recently undergone major renovations. In addition to the beautiful clean cabins, the resort now offers 6 lodge guest rooms, a new public game room and a public sun porch that all guests enjoy. Open Year Around
Reedsburg Dam State Forest Campground
Location: M-55 & County Road 300 - Houghton Lake, MI 48629
Phone: (989) 821-6125
This rustic campground is located along the Muskegon River and the Reedsburg Dam. The campground provides excellent opportunities for boating and fishing. There are 47 sites for tent and small trailer use. Camping is limited to a 15-day maximum stay. Amenities include vault toilets and potable water from a hand-pump well. The campground is located 5 miles northwest of Houghton Lake via M-55 and County Road 300. Sites available on a first-come, first-serve basis. No reservations.
North Winds Lodge at Higgins Lake
Location: 9123 N Cut Road - Roscommon, MI
Phone: (989) 965-1398
The North Winds Lodge has been a mainstay in the community for over 40 years. The experience you remember from your childhood remains in this intimate motel. The rooms are recently remodeled with new furniture with a modern look, comfortable beds, Wi-Fi and coffee makers in each of the rooms. Entertainment is offered through cable TV on 42″ flat screens. Colin Grubb, host of The Lodge at Higgins Lake embraces the opportunity to share the serene environment that Higgins Lake offers to all of its visitors. The lake is a brief walk from the entrance of your room and offers all the recreation you could ask for and other businesses in the community offer services to enhance the experience. Welcome to the peaceful, restful environment that is the essence of Higgins Lake. Pet friendly, ADA accessible room.
Houghton Lake Travel Park Campground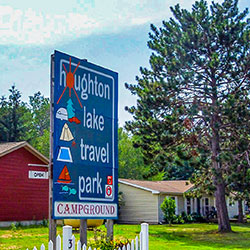 Location: 370 Cloverleaf Lane - Houghton Lake, MI
Phone: (989) 422-3931
Houghton Lake Travel Park Campground is a quiet, friendly, family-oriented camping park. Come up and see us in the "North Country!" We have clean bathrooms, hot showers, laundry, playground for kids (including barefoot sand volleyball court), shuffleboard courts, store, coffee shop, hand-dipped Hudsonville Ice Cream, and game room. The swimming pool is pristine and kept heated at 83 degrees. Ice and firewood is also available.
Lagoon Resort & Motel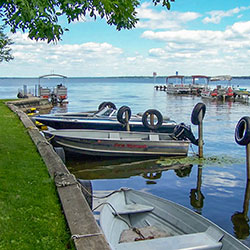 Location: 6578 W Houghton Lake Drive - Houghton Lake, MI
Phone: (989) 422-5761
The Lagoon Resort & Motel offers 4 live-in sized apartments with two bedrooms and stocked kitchens; two motel rooms, and 8 cottages with two, three or four bedroom options. Each unit has cable television. Conveniently located right next door to Lyman's, Houghton Lake's largest and oldest bait and tackle shop. Find us on the southern shore of Houghton Lake, located in the main business district for easy access to local restaurants, shops, events and activities.
Whether this is your first visit, or you have been a guest many times, we want your experience to be excellent. We are available to help with any questions or concerns you may have. A family business with family values; come stay at one of our cozy cottages or apartments and just enjoy your time at the lake.