Travel Planner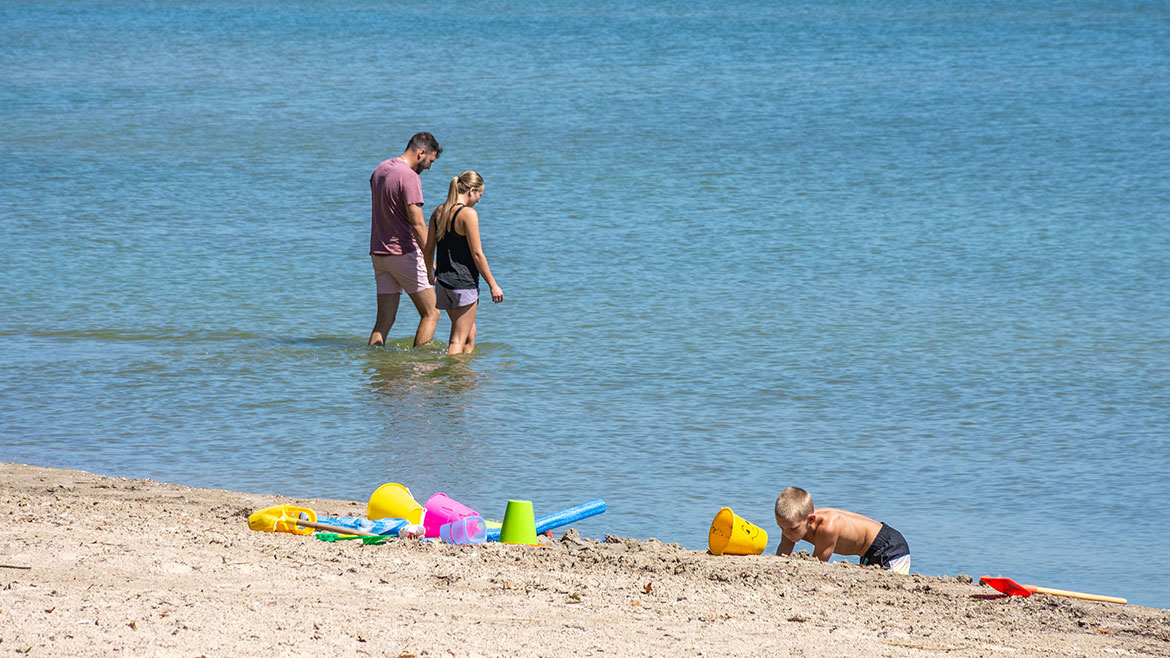 "Au Gres, Michigan: The City of Gritty Stone"
Episode #2013 Travel Planner
This area is built on sand and the original French explorers called it the city of gritty stone. This is appropriate because sand is the sign of beaches and fun and there is plenty of that today. Located on the shores of Lake Huron this little town offers everything that the vacationer could want. From nature hikes to unique cabins. Spend a couple of days close to home.
Arenac County Park
Location: 3199 Rumsey Road, Au Gres, Michigan 48703
The Arenac County Park & Beach is located off of Rumsey Road in Au Gres. This facility includes cabins available for rent along with a day-use park with picnic tables, grills, volleyball, horseshoes and 900' of sandy beach front. Daily pass or seasonal pass available for purchase.
Point Au Gres Nature Lookout
Location: end of Santiago Road near Bay Ridge Drive, Au Gres, Michigan 48703
The Au Gres Township Boardwalk is located at the end of Santiago Road at the Saginaw Bay. The Township has developed a nature walk at the site which is known as the Point Au Gres Nature Lookout. In addition to the nature walk, this site includes access to Lake Huron during the winter months for ice fishing and snowmobiling. There is a 600' lighted viewing walkway and observation platform along with a lighted parking lot. The walkway/observation deck was constructed of pressure treated timber with a handicap accessibility ramp at the beginning of the walkway. Lights and reflectors were installed along the walkway for easy visibility. The parking lot is graveled and lighted and was constructed to accommodate vehicles with trailers. The site is handicap accessible and has restrooms and a picnic area. There is a cedar privacy fence along the east property boundary to protect and buffer the surrounding properties. The existing trees have been preserved for natural habitat on the site.
Farmers Market / Splash Pad
RIVERSIDE PARK
Location: 415 US-23 - Au Gres MI (on the Au Gres River)
Phone: (989) 876.8811
Owned by the City of Au Gres, the Au Gres Riverside Park is located on the Au Gres River at the US-23 Bridge in downtown Au Gres. The Park, which was once a "harbor of refuge" was deemed a harbor of refuge for boats to tie up in case of emergency but facilities were closed. The Riverside Park not only offers, boat docks but also a Riverside Water Pad and Playscape for the kids. The Park is within walking distance to shopping, restaurants, campground, ice cream, wine tasting shop and so much more! There is a total of 30 boat slips.
Shop local goods and eatables at the Au Gres Friday City Market 9am-2pm on Fridays May through September. Local vendors offer goods at Riverside Park in Au Gres.
While you are in-town stop by the Riverside Park Splash Pad and let the kids enjoy playing in the water from 11am - 8pm starting on the Friday of Memorial Weekend and going through Labor Day!! No fee, just push the BLUE BUTTON to activate the water and then sit back and enjoy!
Bruce's Smoked Fish
Location: US-23 (near M-65 intersection), Omer, Michigan
Hours: Thu-Mon 9am-6pm
Bruce's Smoked Fish has been a popular stop along US-23 for those seeking great tasting smoked fish from the Great Lakes. Fish come from local Michigan commercial fisherman, and are smoked locally at Bruce's. Fish available are seasonal and so worth stopping in when visiting northeast Michigan. On every trip north Denny stops and buys his wife Debbie some smoked fish. Debbie said Bruce's was the best smoked fish she ever had and wanted to know when he was going back for more.
Treasures Forever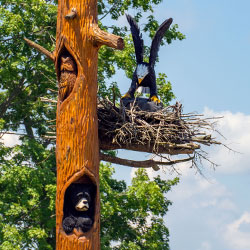 Location: 1003 E Huron Road (US-23), Omer, Michigan
Hours: Mon-Sat 9am-5pm, Sun 10am-5pm (closed Tuesdays)
A hearty Michigan welcome from all of us at Treasures Forever, your soon to be favorite Amish furniture store in Northern Michigan! You'll find three floors of Amish crafted quality furniture. We offer items for the kitchen, bedroom, living room and everywhere in between! The selection of wood species and stain colors are endless. Plus, we specialize in custom design...so if you can dream it, we can draw it...and they can build it! Treasures Forever - well worth the drive!
Kayaking
Location: Saginaw Bay - Green Drive, Au Gres, Michigan
Well, if Kayaking is something you enjoy you can start right here at the cabins and head out into the bay. We saw a lot of folks do just that. CheyAnne and Joey decided to stay in calm water and enjoy paddling right out front.
The Arenac County Blue Water Trail is a project begun in 2013 to provide kayakers and canoeists access to the many waterfowl and wildlife viewing experiences along the northern coastline of Saginaw Bay. Arenac is birding paradise, and along with a myriad of different types of waterfowl nesting here and in migration you can also spot Buntings, Eagles, Kittiwakes, Goshawks, Kestrels, Woodpeckers, and Yellowthroat. It is also host to many species of freshwater fish including walleye, lake trout, steelhead, suckers, and bass, so bring your fishing rod.
A-frame Cabins - Lake Life Cabin Rentals
Location: Green Drive along Saginaw Bay, Au Gres, Michigan
Nestled along Saginaw Bay's shore, you have immediate access to the water's edge where you can breathe in the fresh air. This unique A-frame cabin provides its own special charm and character offering comforts of home with opportunity to unwind, reconnect with nature and create lasting memories with loved ones. Whether you seek adventure or relaxation, we provide the perfect backdrop for a memorable getaway.
Our lakefront cabins offer your own private entrance directly to and from your doorstep to the waves of Lake Huron. With comfortable accommodations with self check in you'll be sure to feel right at home in no time. The properties are located in a natural setting with endless opportunities of witnessing free-roaming wildlife, majestic sunrises and sunsets, and offers a variety of activities such as watersports, hunting, fishing, bonfires, and more! Free parking offered on location. We remove the stress so you can make the memories.
Music In The Park
Location: 401 N Main Street, Au Gres, Michigan
Located adjacent to the Au Gres Riverfront Campground is the City Park. This day use park features playground equipment, tennis, pickle ball, basketball and volleyball courts. Baseball fields and horseshoe pits are also located at the park. Two pavilions, one 60x100 enclosed and one 24x32 open air are also available for rent. Also, a nice stroll around the park on the lighted Riverfront walkway could lead you to a shuffleboard and a horseshoe pit available for your convenience.
The Au Gres Music in the Park series takes place on Wednesdays at 6:30pm throughout the summer. It's free to attend, bring a lawn chair.
Zanner's Ice Cream Shoppe
Location: 211 E Huron Road (US-23), Au Gres, Michigan
Hours: Mon-Thu 11am-10pm, Fri-Sat 11am-11pm, Sun 12-10pm
Zanners is an Ice Cream Shoppe that has been open for 45 years. Come in and you'll find 32 different flavors.
Fishing Saginaw Bay
AUGRES BOAT LAUNCH
Location: Au Gres Rivermouth, Au Gres, Michigan (44.02373, -83.67403)

RIVERSIDE PARK
Location: 415 US-23 - Au Gres MI (on the Au Gres River)
The Au Gres Boat Launch is one of the largest boat access sites to Lake Huron. Facilities include 4 boat ramps which can launch eight boats at one time, restrooms, and a pier along the Au Gres River and Saginaw Bay.
Au Gres is the center of Northeast Michigan accessibly for boating and recreational fishing. The MiDNR public boat ramp is located a mile from the Riverfront Campground. From there, you are only minutes to Saginaw Bay and Lake Huron for some of the best perch and walleye fishing the State of Michigan has to offer. The Riverside Park fish cleaning station is located near the ramp is free to use (donations welcome) after your successful fishing excursion.