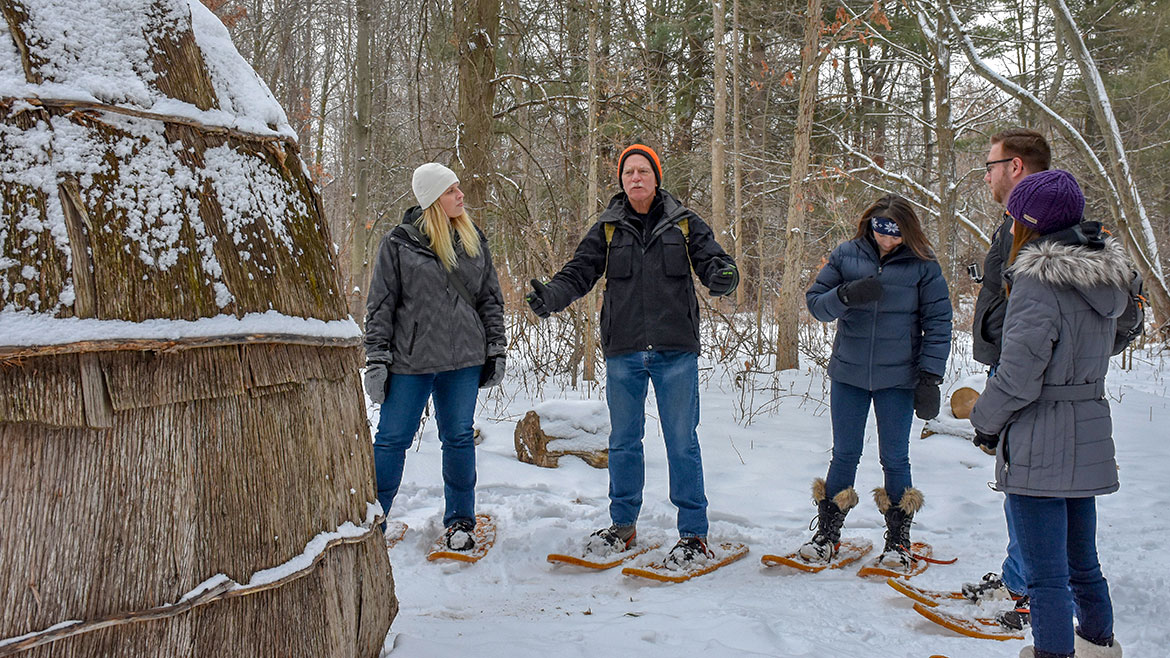 January 2019
What did you think of this week's show?
1/13/2019
Loved the show. We have moved from Illinois to Michigan permanently and love all the wonders that Michigan has to bestow. Love the woods and are definitely going to head up to Manistique.
Linda Rutzen
Twin Lakes, MI
1/14/2019
Your television show of sledding and snow shoeing in the Manistique area of the U.P. was very informative and entertaining. It was well-organized with interesting facts of that specific area. My family was recently in the Manistique and Escanaba area for a wedding (late September 2018), but i have personally never been up in the area in the winter time. I look forward to receiving the dvd in the mail to show my family and friends at a later date! Thank you for hosting these Great Getaway shows. It inspires me to visit many sites in our beautiful "mitten state" during all four seasons. Thank you for offering the free dvd, as well!
1/15/2019
I really enjoyed it. Since I can no longer do those physical activities I can at least live vicariously through your program.
1/15/2019
It was a great show. Brought me back 20+ years when we lived in Manistique and used to take our kids up to the Environmental Lab and walked the trails in winter and summer. Some Sundays after church at the First Baptist Church in Manistique, a bunch of us families would head to the Environmental Lab and take the kids out for teaching moments in the woods. A bunch of us were either Forest Service Employees or outdoor enthusiasts. Many of us participated in the yearly Hiawatha National Forest Breeding Bird Survey. We really enjoyed that location, Big Springs, Indian Lake State Park, etc. today I'm working from home, turned on the TV and found the show. I often watch this show. I love seeing all the places featured that we have spent time at. Thank you for having the show with all this great information featured. Keep up the good work!
David Chrisman
Greenville, MI
1/15/2019
Outstanding! Wish I were there, learned some good info. Will watch as often as I can. Good Show
1/15/2019
I happen to discover your show quite by accident what was very impressed with both the content and the presentation.
1/15/2019
It piqued my interest in the UP in the winter. We've only visited in the summer and fall.
Leah Johnk
Eaton Rapids, MI
1/15/2019
Love anything you show about Michigan especially the U.P. on TV
Jo Ann Fischer
Flushing, MI
1/28/2019
My wife and I are in our mid to late 50s. We just purchased two new-to-us snowmobiles. Although riding in our yard is fun we look forward to going elsewhere. We didn't know where to go until we watched you television show. We found it very informative and are now planning a trip to the Manistique area. Thank you for such an entertaining and informative show.
1/29/2019
I watch every week. Every show is so well done. I enjoy the interviews with people you meet and different points of interest. Keep up the good work.
1/29/2019
As usual, it was great. Your show is a peaceful, sane, refuge. Really needed and appreciated in today's world. Please don't ever retire. The look-back was great. I would love to see more of the old shows and I'm willing to bet many others would too. Thanks again!
Timothy Hall
Traverse City, MI
1/30/2019
"Where Winter is King" (Episode #1604) was a great episode. Thank you for thoughtful, poetic commentary and research for practical application to each spot.
Audrey Mitten
Kalamazoo, MI
2/2/2019
I sit back and watch and remember the great memories of traveling on US 2 to Wisconsin. One time a bear was sitting in the middle of the road. It was the first time I saw a bear in the wild. Great Getaways for me is great memories for life. Thank you!
Andy Kapusta Jr.
Clinton Township, MI
2/2/2019
I have taken this road many times so it was interesting to see places I have only seen from the road and not stopped at and ones that I have visited. I was interested in the new campground in Manistique.
2/3/2019
This is one of my favorite areas (US-2 Top of the Lake Pure Michigan Byway), but I saw things I hadn't stopped at. Thanks!!!!
2/5/2019
Fabulous. I have lived in Michigan my entire life and didn't know about any of these places.
Vicki Scribner
Vermontville, MI
2/6/2019
Looking forward to traveling US2 this summer.
Wayne Slomiany
Ann Arbor, MI
2/13/2019
Best PBS show out there.
2/14/2019
I really enjoy all of the Michigan Great Getaways episodes. The Tawas Bay episode was one of the best. Hope to visit this summer!
Rick McQuaid
Dearborn Heights, MI
2/14/2019
Really enjoyed the Tawas episode. Beautiful photography. Must visit someday!
Rick McQuaid
Dearborn Heights, MI
2/23/2019
Loved 2/21/19 show about Iron Mt and the mine where my grandfather passed away a few days before my father was born. Would love to have a copy - my father grew up in Iron Mt/Norway. Thanks for showing!
Debbie Bray-Arthur
Howell, MI
2/24/2019
We love Great Getaways. This week was great!!
2/25/2019
I am looking for information on the fishing school around Saginaw that you featured in one of your shows. Any information would be greatly appreciated. Thank you.
You are probably referring to the Mark Martin segment from Episode #1603 "Winter on Tires and Shoes" which featured the Great Lakes Bay Region. You can find information on Mark Martin's Fishing Vacation School here: www.fishingvacationschool.com
2/25/2019
Beautiful! Love the historical aspects.
Ed and Susan MacDonald
Herron, MI
3/14/2019
A trip to Curtis is fun and restful. My wife and I have enjoyed every time we've spent in Curtis. It doesn't hurt you to go to Curtis. Great Getaway as promised!!
Andrew Kapusta Jr.
Clinton Township, MI
3/15/2019
Excellent episode! Those are good friends of mine in the episode (1504 "Roscommon Trails") and I have played disc golf there many times with them and also have used the fitness trail.
3/16/2019
I LOVE THIS SHOW!!!!! Look forward to the weekend to watch it!!!! Keep up the great exploring of this wonderful state.
Pat Burling
Facebook Comment
3/16/2019
We have been watching your show for years. You have inspired me and my husband to explore so many beautiful places. Thank you so much for sharing your experiences. Because of you, we have seen so much of our great state, off the beaten path. A sincere thank you!
Mary Corr
Facebook Comment
3/19/2019
The show was excellent. I was featured in the disc golf / fitness trail section of the episode.
Noel Kohnke
Prudenville, MI
3/19/2019
Made me want to explore.
Carol Stanton
Vestaburg, MI
3/19/2019
It was good enough that we're putting Roscommon County on our travel agenda for this summer.
Arnold Coons
Valparaiso, IN
3/20/2019
I enjoyed this episode, it is one of my personal favorites!!
Tylor Ritchey
Hillsdale, MI
3/20/2019
Great show. Didn't know there was that much to do in the area.
Ronald Adamczyk
Muskegon, MI
3/24/2019
This episode was fascinating! I love the camera work on the lake. I also enjoyed the tour of some interesting spots across the UP. Thanks for making this awesome show!
3/25/2019
It's always interesting to hear about different places around out wonderful state.
3/25/2019
The show was great. Makes me want to leave now and explore the UP.
3/26/2019
Looks like a nice area (Michigan's Upper Peninsula) to visit this summer.
Rick Skinner
Shelby Township, MI
3/31/2019
Awesome loved hearing about the different trails.
Bonnie Chupp
White Cloud, MI
4/1/2019
We loved it! We have hiked a few of these trails and now we are excited to try some new ones that we didn't know about. Great show, we look forward to it every week!
4/6/2019
We enjoyed all the beautiful gardens. It was a very informative episode.
Patrice Lowell
Cadillac, MI
4/9/2019
I was in that area a few years ago and thought it was beautiful, had no idea their was a tour for gardens and now will have to make a new trip back. Love your show, nice to find new places to go that I otherwise wouldn't have known about. Thanks
4/9/2019
Thank you for making us aware of these wonderful gardens. Hard to believe there are so many in that area. Looking forward to receiving information.
Kathy Greenwood
Okemos, MI
4/9/2019
I loved the show. I have a large garden and it gave us fresh ideas. Going to England soon for a garden tour and the Chelsea garden show.
4/9/2019
Happened on this show by accident. I was tuning in for Antique Roadshow. It was delightful and piqued my interest to find where the gardens are and how to visit. Looking forward to receiving this brochure.
4/12/2019
Susan Kay Love the train ride. Been winter and summer. Want to go in Autumn!
4/13/2019
Donna M Tardiff Would love to ride this train...it's on my bucket list! :)
4/17/2019
Dawn Kemp One of my favorite places 🌅⛱️
4/17/2019
John Heidelberg One of the best lakes you will ever kayak,🙂
4/17/2019
I thought 'The Bruce Peninsula on Bikes' episode was wonderful. My family is always looking for new places to ride and I was paying very close attention to this episode. A lot of good info...had to watch it three times to catch everything. Riding our bikes with our two young teenage daughters is great family time and gets everyone away from their phones and gadgets for a while.
4/18/2019
Julie Spencer We used to see the eagle families in Oscoda, on River Road, near the Au Sable River. So beautiful to watch them soar !!!💙
4/18/2019
Maureen Hogness Stunning shot!
4/19/2019
Larry Brooks Beautiful, A perfect day for this sighting
4/18/2019
Just gotta say I've been watching the show so long I used to record episodes on VHS and rewatch them over and over and I still have some. You've been to so many places I've been and some I probably never will but I can always count on seeing great places watching the show. I hope the show never ends it's truly what life and PBS is all about! Thanks guys!!
4/21/2019
Love this show. Hoping to travel up to the Grayling area soon.
4/24/2019
Great show Tom! Makes me want to dig up some of my grandparent's old slides since they visited the area (Grayling) in the late 30's 40's. They had friends who owned if I remember correctly a hardware store. Vern Hartman ran the store doing much to promote the area's fly fishing. He tied flies selling many to tourists. Keep up the great work.
4/28/2019
Maureen Hogness Aye aye captain
6/28/2019
Diane Wolf Be safe!
6/29/2019
Jane Thiel Wonderful cruise I bet many people do not know about in Ontario.
4/25/2019
A good friend of mine is a member of our local garden Club. I was looking for the link to watch this episode (Great Getaways 1607 "A Rural Garden Tour - Time To Prepare For Spring") online. I thought it would be a good tour for her club. Please e-mail me the link so she can watch it on her computer or tablet.
You can watch the full episode of Episode #1607 "A Rural Garden Tour" on our YouTube Channel here: Episode 1607 YouTube. Happy gardening and thanks for watching!
4/24/2019
Kathy Omo Doesn't that make it a Great Getaway? Good job!
4/24/2019
Sherry Prokopek Wow, congrats, that's a great looking fish, lol.
4/24/2019
Gary Handley Been fishing that area and river since was 5 yrs old that's been 60 yrs just keeps getting better
4/24/2019
Daniel Lee Morse Nice....more tight lines to ya
4/25/2019
Lori Schmidt Amo 🐡🐟🐠👏🏻👏🏻👏🏻👏🏻👏🏻👏🏻
4/28/2019
My family loves your show. When we go north for our vacation we always check with great getaways for places we haven't been yet
TerryJo Meyers
Facebook Message
4/29/2019
Great! Can't wait to explore the trails!
Connie Farber
Allendale Charter Twp, MI
4/30/2019
Had no idea such a tree top trail was available in the Bay Area. Great episode, made me want to get out and go hiking and bike riding with my kids and grandkids.
4/30/2019
Really enjoyed the program! It inspired me to find out more about what to do within our beautiful state of Michigan.
5/4/2019
I really enjoyed the show. I like learning of new and interesting places to visit in the U P.
Laureen Brockway
Morley, MI
5/7/2019
Hi Guys, Love this weeks episode on the scenic highway. I am going to take the family in the motorhome on the same route in June. Keep up the great work!
Peter Bertsch
East Lansing, MI
5/9/2019
Excellent detailed program guide to make it so much easier in finding great places to visit. Many thanks!
5/9/2019
I really do like your shows. So many fond memories of watching this show in the 90s with my grandparents [who were very fond of you as well!]. It was called "Discovering the Northern Experience". The show is so relaxing to watch and informative. I've followed your suggestions whenever I visit and area you've documented/showcased. We recently purchased a microfarm in the middle of a major UP tourist destination. Would love to have you up and appear on a show!
5/11/2019
How can I watch Part 1 of Scenic Byways...St Ignace to Manistique?
Gail Fouts
Facebook Message
You can watch the full episode and find more information on the online travel planner for Episode #1503 "Top of the Lake Scenic Byway" here: Episode 1503 Travel Planner. Thanks for watching!
5/14/2019
We want to check out the ski jump. We've been through Iron Mt a few times but want to look this up this summer.
5/22/2019
Tom and Dennis - Today I visited the Peninsula Point Light Station that was on one of your recent shows. What a wonderful place! I wouldn't have known about it without watching Great Getaways. I've watched your shows from the days it was the Northern Experience and have visited places from Saginaw to the Keweenaw because of you. Thanks for the many years of great shows about great places. I really appreciate you and your work.
5/26/2019
Denise Robinson ❤️❤️❤️Looking great Tom Tom ✌🏽✌🏽✌🏽🙏🏼🍺
5/26/2019
Pat Buchan I enjoy watching all your shows! Keep up the good work!
5/27/2019
Lauren Howard Keep it up, guys! We love you!
6/3/2019
You always give me ideas for what I need to visit.
Sue Schram
Facebook Comment
6/16/2019
Patty Deaton Great picture sir.I couldn't do that though. Thanks for sharing. Awesome views you'll always have in memories.
6/15/2019
I enjoyed the episode. I usually kayak the Betsy River on the west side of the state of Michigan. It was an enlightment of the east side. I will visit some of the rivers you mentioned.
6/25/2019
Julie Spencer Would love to be paddling here.....💙🌲
6/25/2019
Marie Campbell Beautiful...such clear water
6/25/2019
Susan Kay Loved my visit to this area. The boat ride offered is so worth it.
6/28/2019
Positively have to visit Gray Co./area in Canada; great info and show :) Thank You
6/29/2019
I have been wanting to fish in that area (Tawas Bay) for a long time but needed some info on it. I tried to watch the show but could only see bits and pieces because the signal wasn't coming in. Love your shows when I can see them and always watch when I can
Randy VanMaldegen
Rockford, MI
You can watch the full episode and find more information on the online travel planner for Episode #1308 "More Fishing Than Ever" here: Episode 1308 Travel Planner. Thanks for watching!
7/7/2019
Great show. I want to know more about Tobermory.
Joseph Iellamo
Greenbush, MI
7/16/2019
Looking forward to using your guide to go visit the Bay Area marsh trails. Excellent show.
7/16/2019
What a fascinating mix of opportunities to enjoy our great state! I saw several activities and places I would like to check out. Thanks for the guides....and the show!
7/16/2019
I enjoyed the show. I have not explored this area and now live closer and like to take day trips.
Jeffrey Showers
North Branch, MI
8/2/2019
Very informative and gave me some ideas for places to visit on my upcoming trip.
8/6/2019
This show was GREAT! I can only hope to get to all these wonderful wilderness locations. As a photographer hobbyist I cherish a hike in scenic areas. This episode really sparked my imagination for the trips to these locations. I can already imagine some fall season trips. Keep the great episodes coming and I'll be watching.
Robert Gustin
Kalamazoo, MI
8/16/2019
I was just there. (Keweenaw Peninsula) It truly is a one of a kind place! Perfect summer weather.
8/25/2019
I love all your photos and watching your travels!

😊
Katie Hernandez
Facebook Comment
9/20/2019
This is a wonderful drive. The colors are fantastic. Great!!
Andrew Kapusta Jr
Clinton Township, MI
9/21/2019
Awesome as always Tom, definitely a great trip. Doesn't ever get old no matter how many times we go there.
9/24/2019
Pat Buchan Looks like you guys are having a great time!
9/25/2019
Mary McLean Beautiful. Thank you for sharing this.
9/27/2019
Daniel Lee Morse Thanks for the great pictures and the look into that foggy morning for the people who can't be there to experience it....
9/28/2019
Barb Marzi Awesome Shot! Thanks for sharing!
10/7/2019
Really enjoyed it! Can't wait to see the UP.
Steve Yuchasz
Goodrich, MI
10/12/2019
Loved the show. I have only been in the U.P. only once. watching this show makes me want to go again.
10/13/2019
I really liked this episode. I look forward to watching the show every week. Tom does such a good job hosting it!
10/13/2019
I loved it. I've lived in Michigan my whole life and I've never been able to really experience all the beautiful scenery. Your show has inspired me. Thank you so much.
Kandus Cody
Shelbyville, MI
10/14/2019
Seeing the beautiful scenery makes me want to go there! (Michigan's Upper Peninsula)
Kandus Cody
Shelbyville, MI
10/15/2019
Felt so lucky to catch the last 30 minutes of it! We recently experienced the western U. P. for the first time... Silver City, Mining, Porcupine Mt., Lake in the Clouds, Copper Harbor, oh my! The colors, the views were spectacular! Wish we had seen the whole episode, but you mentioned several other areas that we want to explore next year.
Kathy Redden
DeTour Village, MI
10/16/2019
I've been watching Great Getaways for a lot of years, but I think that (episode #1517) was your best show ever.
Jospeh Iellamo
Greenbush, MI
10/18/2019
I loved this week's show. It has been one of my favorites.
10/21/2019
Loved this episode! It's been many years since we camped in and visited this area. This show made us put this on our bucket list for a visit soon!
10/24/2019
I've been watching Great Getaways for a lot of years, but I think that (episode #1517) was your best show ever.
Andrew Kapusta Jr
Clinton Township, MI
11/16/2019
Just watched your program "Scenic Byway 2" and it was very beautiful, entertaining and informative about the UP. We will take a trip up north next spring. Thank you!
Leanne Rodriguez
Saginaw, MI
11/23/2019
Thanks for posting! Cool to see the river in winter! I thought I was the only one that went winter kayaking!
12/1/2019
I really enjoy your show. I appreciate the info and guides you send me! Thank you!!
Jason Bartos
Norton Shores, MI
12/25/2019
I grouse hunt with my dog up around there (Wagner Falls, Munising, MI). Beautiful in the fall.
12/28/2019
Love the show Tom, it's a great tool for planning my trips and adventures. You do a great job with the videos, and a big thank you for also promoting the local businesses. Will be watching the show and following your path for a long time to come!
12/29/2019
This show was wonderful, informative and entertaining. We are fortunate to live in such a beautiful state as Michigan.
Steven Byers
Grand Rapids, MI
12/30/2019
I just watched your program on Pictured Rocks during the winter. It was fantastic and very well done. It makes me want to put that on my bucket list to do and experience. We have went on a tour of Pictured Rocks on our family vacation two years ago and made a wonderful memory of the days we spent up north hiking and site seeing the wonderful and friendly towns in the areas. The National Parks were well kept with much information for all ages. This program put a whole new face on seeing nature in the winter time and a new beauty of the same area. Thank you for you insight to make a program like the one I just watched!!
Kevin Wiersma
Allendale, MI