Episode #1801-001 | week of January 7, 2021
Manistique, Michigan area
"A U.P. Snowshoeing Adventure"
Deep, Deep snow everywhere. This trip sees more of the white stuff than you can imagine and we take you to some of the best trails to experience a snowshoe adventure like no other.
Episode #1402-003 | week of January 14, 2021
Michigan / Ontario
"Winter Wonderland"
We have had the opportunity to go to a lot of great places and see some great winter scenery. We decided it was time to put our favorites together in one show.
Episode #1702-002 | week of January 21, 2021
Manistique, Michigan
"Michigan's First Rails To Trails: Celebrating 50 Years"
In 1969 there were no Rail Trails in Michigan until the folks in Michigan's Upper Peninsula banded together to make the old Superior Railroad line into the first one and by 1970 it was a reality. 2020 is the 50th anniversary and we will bike, ATV, snowmobile, and ride on horseback to discover the beauty and history traveling from Lake Superior to Lake Michigan on Michigan's first Rails to Trails.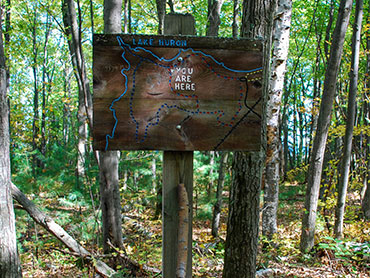 Episode #1707-002 | week of January 28, 2021
Michigan's Sunrise Coast
"Our Favorite Hikes on the Sunrise Coast" part 1
One of the best ways to see Michigan's Sunrise Coast is on foot, whether you want to tour the National Forest, take a day hike along one of the most scenic rivers in the world, stroll along a beach with your children or go backpacking along a stretch of the Lake Huron Trail. We will show you all of our favorites along the "Sunrise Coast."
Episode #1708-002 | week of February 4, 2021
Michigan's Sunrise Coast
"Our Favorite Hikes on the Sunrise Coast" part 2
We continue our favorite Hikes with more miles of backpacking and day trip trails that reach as far as you desire to travel on foot into the Huron National Forest woods, where an excellent system of shelters and tent sites offer backpackers plenty of possibilities for exploration. Step away from the paved roads and onto the trail and you'll soon find plenty of quiet and solitude as well as deer, eagles and loons.
Episode #1802-001 | week of February 11, 2021
Michigan's Upper Peninsula
"Wilderness Waterfalls" part 1
The U.P. is home to all but one of Michigan's waterfalls. There are more than 200 falls scattered across the U.P., ranging in size from under 5 feet to 48+ feet vertical drops. Almost all require hiking to reach, and all are worth the hike. Some of the hikes are a lot harder than others but as you will see today the hikes are half the fun.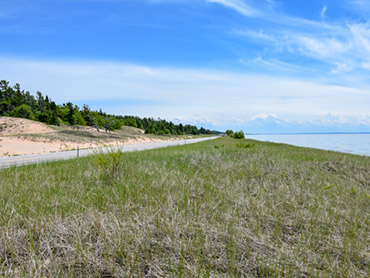 Episode #1503-003 | week of February 18, 2021
Michigan's Upper Peninsula
"Top of the Lake Scenic Byway"
Michigan's newest Scenic Byway and maybe its most beautiful starts in St. Ignace and travels west to Thompson all along the top of Lake Michigan.